Business Auxiliary Changes Name to Campus Services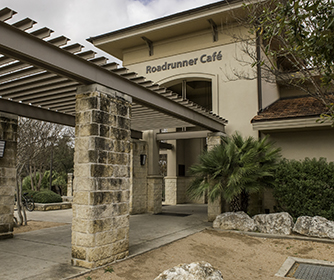 (May 11, 2016) -- UTSA Business Auxiliary Services (BAS) has a new name to best reflect the range of services provided by the office. Effective immediately, BAS is Campus Services.
"The primary rationale for the name change is to better and more accurately represent the entire range of services provided by the department using more commonly understood language, which may enhance our ability to assist the UTSA community with a more understandable and memorable moniker," says Clay Haverland, director of Campus Services. "This is definitely a good thing."
Campus Services Assistant Director Burt Reynolds suggested the name change following his attendance at the Advanced Institute for Managers hosted by the University of Cincinnati, whose comparable auxiliary services department goes by the name Campus Services. Intrigued and impressed by the user-friendly label, he researched and proposed an office name change.
Office representatives thoroughly reviewed the possibility of rebranding as Campus Services through focus groups conducted with faculty, staff and students. Student responses followed common themes: the name Business Auxiliary Services is neither user-friendly nor adequately describes the nature of the department's role on campus. Conversely, students found Campus Services succinct and easy to remember while telling the complete story of the office's services.
Employees offered the unique perspective that the words "business" and "auxiliary" portray the department as external to the University community. Others stated that Campus Services better indicates that the office serves the campus rather than an abstract unnamed entity.
The newly renamed Campus Services continues to Enhance the Campus Experience through multiple service areas on campus, including parking, UTSA Dining, The 'Runner, the Rowdy Campus Store, vending, and the UTSACard.
------------------------------
Connect online at Facebook, Twitter, YouTube and Instagram.