Looking for a cool summer camp? Check out UTSA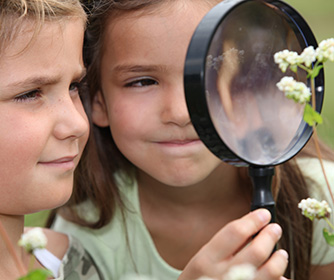 Share this Story
(May 17, 2016) -- Is your elementary, middle or high school student looking for a great summer camp?
The University of Texas at San Antonio (UTSA) offers dozens of daily and weekly programs starting in June. Children, teens and recent high school graduates can choose from an array of activities to learn, explore and create this summer.
UTSA summer camp themes range from science, engineering and architecture to sports, music and writing. The camps offer participants a place to learn something new while having fun and spending quality time with UTSA's top-tier faculty, staff and students. While at UTSA, campers will also meet new friends who share similar tastes and passions.
As many as 8,500 campers are expected to participate this summer in all sessions hosted at the UTSA Main, Downtown and Hemisfair Campuses.
UTSA offers half-day and full-day sessions as well as camps lasting one or two weeks. Some camps are residential, offering campers a chance to stay overnight on campus.
Summer camps highlights
• UTSA is known for its excellence as a premier research institution and its summer camp programs are evidence of its commitment to educate and raise awareness of the latest developments in the STEM fields. The Interactive Technology Experience Center (iTEC) will host nearly 40 camps throughout the summer for curious youth who are interested in science, engineering, technology and math, and all kind of topics that share one common skill: solving problems. Camps cover a variety of disciplines ranging from environmental science and robotics to programming, biomedical engineering and geology.
• The Summer Career Academy in Architecture and Interior Design is intended to help curious high school and college students decide whether architecture or interior design is for them. UTSA faculty of the College of Architecture, Construction and Planning use downtown San Antonio as a laboratory for visual and hands-on design exercises where students learn and polish basic design skills such as sketching, creative and spatial thinking, model construction and photography.
• UTSA Athletics hired two powerhouses this year. Head football coach Frank Wilson joined UTSA earlier this year. Coach Steve Henson recently joined UTSA to lead the men's basketball program. Campers will train with some of UTSA's finest athletes and coaches in NCAA facilities and gear. Baseball, tennis, soccer and volleyball will also be part of the sports summer camps mix.
• The UTSA Summer Music Institute is hosting several camps that will allow young, aspiring musicians learn and improve their artistic chops in playing selected band instruments. There will also be a session offered to youth planning to compete in the Texas All-State choir process and a performing arts camp where students learn the magic of acting, dance and drama.
• UTSA is a leading research institution focused on protecting and preserving the monarch butterfly, the official insect of Texas. In this camp, hosted by some of the best environmental scientists in Texas, campers will learn why the monarch butterfly might be disappearing. They will also explore the basics concepts in monarch biology, ecology and conservation; and will build a plant press to collect plants for observation, prepare insect boxes and study everything about monarchs migrating north via Texas twice every year.
• Testing to get into a math course in college? UTSA Testing Services is hosting several one-day and four-day boot camps for students seeking placement into several math, pre-calculus and calculus courses. The Jump Start camp is a faster pace for students who've already taken a math placement test and scored just under the acceptable score for entrance into MAT 1093 or 1214. The Math Boot Camp is slightly longer for students needing more time to prepare for their tests. Both camps are designed to prepare students to nail their future math courses, not to simply pass a test. UTSA math teachers lead these camps.
By Diego Aparicio
Multimedia Manager
----------------------------
Learn more about the growing list of UTSA summer camps.
Connect online at Facebook, Twitter, YouTube, Instagram and UTSA Today.