Study abroad program renews travel opportunities to Mexico for UTSA students, faculty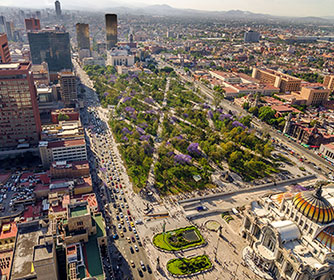 Share this Story
(May 3, 2016) -- The first cohort of UTSA students to travel to Mexico since 2010 recently returned from a weeklong education trip to Mexico City.

Eight faculty-led study abroad programs will visit Mexico this year to study everything from political science and global affairs to cross-cultural medicine to culture and civilization in Latin America. The expansion comes as a result of strengthened academic partnerships between UTSA and 26 Mexican institutions, centers and government entities.

The new programs, sponsored by UTSA Office of International Programs and the Carlos and Malú Alvarez International Study Fund, support UTSA's Latin American Initiative, which aims to advance scholarship on both sides of the border.

"The University of Texas at San Antonio has a unique and long-standing connection with Mexico due to our shared visions of global learning, research and community engagement," said René Zenteno, vice provost for international initiatives. "In recent years, UTSA has made deliberate and strategic efforts to expand our partnerships in Mexico."

Art History scholar Teresa Eckmann and 20 undergraduate and graduate students in her "Muralism, Across the Border and into the 21st Century" course spent spring break in Mexico City and Cuernavaca presenting their mural research on location and immersing themselves in the history of modern and contemporary Mexican art.

"For some students this was their very first trip outside of the U.S., and for others it was an experience of coming home to their cultural inheritance," Eckmann said. "UTSA provides students the opportunity to advance in the fields they study through real experiences."

Nicole Poole, sophomore fine arts major, said travel is an essential component of personal growth, especially for someone interested in reflecting life through art.

"When we are able to travel, we can understand other peoples' ways of life and their cultural traditions," Poole said. "Mexico is a diverse nation that anyone can learn from, and I feel it is important to understand and relate to our closest neighbors on a personal level."

In preparation for the trip, Poole and her fellow students spent months studying the works of famous Mexican muralists, such as Diego Rivera, David Alfaro Siqueiros and José Clemente Orozco, known colloquially as "Los Tres Grandes." She said that viewing the murals in person helped her better understand the works she studied.

"You're able to appreciate the intricate details and textures you can't grasp otherwise," she added. "Being there helped me become a better student of art, and I have UTSA's top-tier study abroad opportunities to thank for that."

The class will display their sketchbooks, research, and a film about their experiences at the UTSA Gallery corridor in the Art Building on the Main Campus May 4-11, with a closing reception on May 11 from 2-4:00 p.m. that is open to the public.

In the coming months, more UTSA students and faculty of various disciplines will travel to Mexico as part of their classes. So far, the study abroad programs are scheduled to visit Mexican cities such as Guadalajara, Puebla, Queretaro, Oaxaca, Mexico City and Guanajuato.
----------------------
Learn more about UTSA Education Abroad Services and 2016 Study Abroad opportunities.

Connect online at Facebook, Twitter, YouTube, Instagram and UTSA Today.