UTSA Alumni honored for achievements during annual gala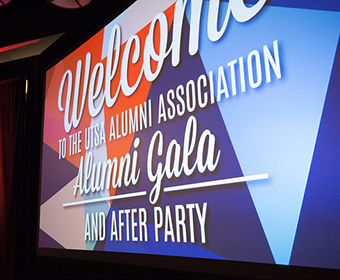 (August 22, 2016) -- The University of Texas at San Antonio Alumni Association honored three recipients for signature awards at the 17th annual UTSA Alumni Gala on Saturday night. Lina Ramey '86 received the Alumna of the Year Award, Rob Killen '97 received Alumnus of the Year and Cathy Starnes '92 received the Distinguished Service Award.
Lina T. Ramey is a 1986 graduate of the UTSA College of Engineering, where she earned her B.S. in Civil Engineering. She is president of Lina T. Ramey & Associates Inc. (LTRA), an engineering consulting firm established in 1998. Ramey and her husband established the Walter Zackery Ramey Memorial Award program to provide $250 for each civil engineering student who passes the Fundamentals of Engineering (FE) exam during their senior year. It memorializes their son, Zackery, who died in a car accident in 2012.
She is on the Board of Trustees of the Arab American Engineers and Architects Association, Dallas Chapter. Ramey is a part of the UTSA Department of Civil and Environmental Engineering Advisory Council and a life member of the UTSA Alumni Association.
Rob Killen is a 1997 graduate of UTSA, where he earned a B.S. in Political Science and is an attorney with Kaufman Killen where he's worked on several land use issues for individual developers and on behalf of the San Antonio development industry since 2001. Killen has been involved in every major revision to San Antonio's Unified Development Code since 2001 and has participated in revisions to the Tree Preservation Ordinance and Vested Rights Ordinance. He was honored with the San Antonio Business Journal's 2012 Outstanding Lawyer Award and was named one of the journal's "40 Under 40."
While a student at UTSA, Killen served as president of the Student Government Association and the UTSA Lambda Chi Alpha chapter. Killen is a life member of the UTSA Alumni Association, served as president of the Association from 2009 to 2011 and served on the UTSA Development Board from 2009 to 2011.
Cathy Starnes, PhD received her B.B.A. in Finance from UTSA in 1992. Since 2014, she has been the chief growth officer at WellMed Medical Management Inc. From 2006 to 2013 Starnes was the president of SWBC PEO and Employee Benefits Consulting. Prior to that, she spent five years as the vice president of Key Accounts, UnitedHealthcare (PacifiCare). She has been recognized in the San Antonio Business Journal "40 Under 40", participated in Leadership San Antonio, and received a North Chamber Young Professional Award. Starnes is a past board member, officer and life member of the UTSA Alumni Association. She is also a member of the Sombrilla Society.
The UTSA Alumni Association established the Alumnus of Year award in 1980 to recognize UTSA alumni who have gained unique distinction through their accomplishments and to focus attention on their achievements. Past recipients of this award include Clay Killinger '83, Nancy Kudla '87, Robert Rivard '96, Howard Peak '75, Ernest Bromley '78, '80, and James Bodenstedt '96.
The UTSA Alumni Association established the Distinguished Service Award in 1997 to recognize and honor those alumni and others who have made significant contributions to the UTSA Alumni Association and to UTSA. Past recipients of this award include Steven Q. Lee, Tom Frost, Nelson Wolff, and Sam Dawson.
The annual UTSA Alumni Gala brings together UTSA alumni, friends and guests to celebrate the Association's 39 years of scholarships and service programs. Proceeds from the event will help support UTSA Alumni Scholars and Alumni programs. Since 1980, the UTSA Alumni Association has awarded more than $1.5 million in scholarships to support UTSA students.
-------------------------------
Learn more about the UTSA Alumni Association.
Connect online at Facebook, Twitter, YouTube and Instagram.
Events
Through the month of February, the UTSA community is invited to join student organizations, colleges and departments at events that commemorate the African American people, places and events that have paved the way for racial equality.
Various locations
Diploma Dash is a fast, certified 5k course for runners and a scenic route around Main Campus for walkers, strollers and dogs! There are individual and team prizes. Benefits UTSA students through the UTSA Alumni Association scholarship program.
UTSA Main Campus
Enjoy music, food and socializing during this fundraising event benefiting the San Antonio Symphony League for the Youth Concert Series and the ITC for its ongoing educational mission.
UTSA Institute of Texan Cultures, Hemisfair Campus
UTSA Libraries will host Robert Rico, M.P.A., Department of Criminal Justice, for his presentation "Restorative Justice: A Relational Approach to Civic Discourse." Pizza will be provided to students while supplies last.
Buena Vista Street Building (BVB 2.309), Downtown Campus
Spend an evening stirring your curiosity during these monthly talks featuring some of UTSA's most renowned faculty, and learn how the latest research in their fields applies to our daily lives. This month's speaker is Francine Romero, UTSA associate professor and associate dean of the College of Public Policy.
The Historic Guadalupe Theatre, 1301 Guadalupe St., San Antonio
Meet with 60+ representatives from Texas and out-of-state schools to get information on becoming a competitive health professions applicant and information about the application and transition process.
Student Union Denman Ballroom (SU 2.01.28), Main Campus
UTSA master's of fine arts student Lauren Riojas-Fitzpatrick showcases her thesis through an art exhibit.
Terminal 136, 136 Blue Star, San Antonio
Hundreds of students, faculty, staff and alumni will roll up their sleeves to volunteer at nearly 20 service agencies throughout San Antonio.
Convocation Center, Main Campus and service projects throughout San Antonio
---