Meet a Roadrunner: Freshman survives brush with death to pursue dreams at UTSA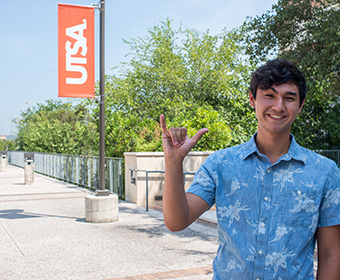 Share this Story
(Aug. 25, 2016) -- Meet Jacob Seiber. This future doctor wants to help others the way doctors helped him.
His path to UTSA almost ended when he was three years old. Seiber and his family lived in Japan, where his dad was stationed in the Air Force. One day, he was riding in a car with his babysitter when a truck crashed into them.
"My skull was crushed in half and my eyebrow was torn off," said Seiber.
The toddler was in a coma and had a series of reconstruction surgeries. Calling it "a miracle from God," Seiber recovered almost immediately. He has no memory of the accident, but the visible and mental scars have haunted him for years.
"The social aspect of my life was difficult," said Seiber. "Students would see me as different and make fun of me."
Seiber's life took a positive turn in fourth grade, when his family moved to San Antonio and he started making friends.
"They showed me that things in life need to be cherished and one of them is yourself. That's when I started reaching for goals I never thought were possible."
Before he graduated summa cum laude from Johnson High School in San Antonio, Seiber heard about the Facilitated Acceptance to the Medical Education (FAME) program at UTSA. It allows students to pursue a biology degree in the UTSA College of Sciences while also preparing for medical school through courses at the UT Health Science Center at San Antonio.
"It's the best opportunity I could find for myself. It was my dream school and a dream program," Seiber said. "Getting in almost immediately was amazing, so I jumped right onto it."
The Honors College student's ultimate goal is to be an anesthesiologist.
"I've been through a lot of surgeries and was always nervous," said Seiber. "The anesthesiologist was always there to comfort me and said that I would wake up and have a better future after this. I want to give people hope that they can trust me and have faith in their own life."
Seiber believes his future is bright as a Roadrunner.
"UTSA has given me this opportunity to live up to my expectations and live up to my worth," Seiber said. "I'm looking forward to being a Roadrunner, being a part of the community and also being able to focus on my studies. It's a great balance of both worlds."
-------------------------------
Do you know a Roadrunner who is achieving great things? Email us at social@utsa.edu so that we may consider your suggestion for our next installment of Meet a Roadrunner.
Connect online at Facebook, Twitter, YouTube and Instagram.