UTSA ranked among the top 100 U.S. universities by Times Higher Education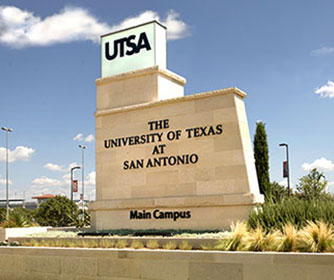 (September 22, 2016) -- UTSA has been ranked among the top 100 universities in the United States and among the top 400 in the world according to the Times Higher Education World University Rankings 2016-2017. The annual rankings measure world-class universities across their core missions including teaching and research. There are more than 20,000 universities worldwide.

Only six Texas institutions were included in the top 400. They are UTSA, UT-Austin, UT-Dallas, Texas A&M University, Rice University and the University of Houston.

Overall, Times Higher Education ranked 978 institutions from 79 countries, making it the broadest ranking to date. Three other Texas universities, UT-Arlington, UT-El Paso and Texas Tech, ranked in the top 800.

UTSA scored particularly strong in the citations category, an assessment that counts the number of times studies by top-tier researchers are cited in global scholarly publications. Citations accounted for 30 percent of the ranking's overall assessment, which includes 13 indicators grouped into five areas: teaching, research, research influence, international outlook, and industry income.

"The Times Higher Education ranking validates UTSA's position as a world-class university," said UTSA President Ricardo Romo. "Our research is globally recognized as meaningful and impactful, just as you would expect from a Tier One institution."

The Texas rankings are:

UT-Austin (#50)
Rice University (#87)
Texas A&M University (#169)
UT-Dallas (#201-250)
UTSA (#351-400)
University of Houston (#351-400)
UT-Arlington (#501-600)
UT-El Paso (#601-800)
Texas Tech (#601-800)
-------------------------------
Learn more about the 2016-2017 Times Higher Education ranking and its methodology.
Connect online with UTSA at Facebook, Twitter, YouTube and Instagram.
Events
Jenny Hsieh, professor and Semmes Foundation Chair in Cell Biology and director, UTSA Brain Health Consortium provides an engaging look into the world of gene editing.
South Texas Research Facility, 8403 Floyd Curl Dr., San Antonio
UTSA will offer science, engineering, architecture, sports, music, writing and language and culture camps for kids, teens and adults.  Register now.
Various locations, Main and Downtown Campuses
Future Roadrunners and families prepare for everything they need to know before the fall semester.
Various locations, Main and Downtown Campuses
Join us for cupcakes and lots of Roadrunner spirit as we celebrate the day UTSA was created by the Texas Legislature.
Sombrilla, Main Campus and Frio Street Commons, Downtown Campus
Join us as we celebrate this momentoud day in UTSA history by paying homage to the moment Governor Preston Smith signed the legislation creating UTSA exactly 50 years ago on June 5, 1969.
The Alamo, 300 Alamo Plaza, San Antonio
The State of Hand Stitch is a survey of eleven women artists in Texas working with thread and needle at a time when embroidery is increasingly recognized as a medium of choice by serious artists. Opening reception is June 5 at 5pm. Exhibit continues through Aug. 9.
Arts Building, Main Art Gallery (ART 2.03.04), Main Campus
For the 48th year, the ITC brings culture to life with music, dance, artisanship, food and hands-on experiences that connect Texans to their roots.
UTSA Institute of Texan Cultures, Hemisfair Campus
The fifth annual SAMHS and Universities Research Forum (SURF) is a regional event that highlights the latest research and discoveries of trainees, faculty, staff and students working to improve health outcomes.
H-E-B Student Union Ballroom (HSU 1.106),Main Campus
---