Student inspiration brings trendy new dining option to UTSA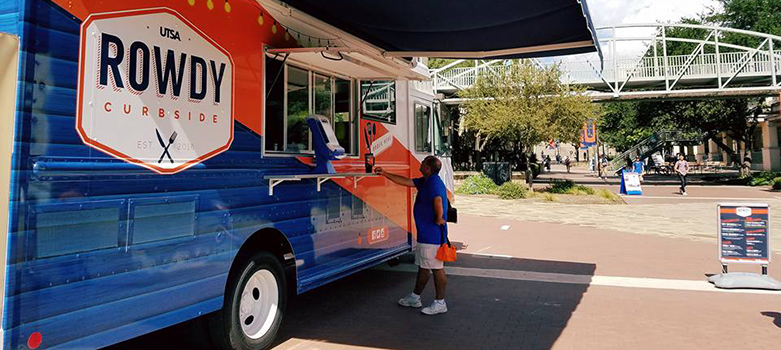 (November 3, 2016) – In the Fall 2016 semester, a new dining location rolled onto The University of Texas at San Antonio (UTSA) Main Campus: Rowdy Curbside, UTSA's first official food truck. With rotating weekly menus, Rowdy Curbside brings the food truck trend to UTSA and provides an exciting new dining experience for the campus community.
The initiative to bring a food truck to campus began with UTSA's students. In 2015, Christian Kenney, then the vice president of the UTSA Student Government Association (SGA), discovered that other universities had food trucks, and he took the idea to SGA. Along with other student representatives, Kenney surveyed the UTSA student population to determine if there was interest in the idea. Ultimately, they pitched the concept to UTSA staff and administration.
"I saw a need from my fellow students for different food options on campus," said Kenney. "I knew it would be hard to find physical space for new food locations, so a food truck seemed like an easy solution for additional dining."
Once the food truck received a green light, Kenney served as the student representative on the vendor selection committee, working alongside staff and administration to find a vendor that would best meet UTSA's needs.
As the process continued, UTSA Campus Services presented two separate food truck designs to the UTSA community: Rowdy Curbside and Rollin' Rowdy. Students and employees participated in the voting process. The results were neck and neck, but Rowdy Curbside ultimately raced ahead. Using bold UTSA colors and imagery, Rowdy Curbside's design fit the spirit of UTSA, according to Kenney.
Sara Flores, communications specialist for Campus Services, created the design for Rowdy Curbside. Flores drew inspiration from the urban kitchen design trend popular with restaurants and food trucks, using minimalist themes that incorporate a mix of organic and industrial materials.
"This trend is associated with unique and freshly prepared food that isn't limited to a specific region or dining genre," said Flores, something that makes the design perfect for the truck's rotating menus.
Rowdy Curbside offers five different menus on a rotating weekly basis: Tex Mex, including favorites such as quesadillas and tacos; Big Cheesy, a delicious range of grilled cheese sandwiches; Crazy Dogs, offering creative hot dog options; Southern Comfort, serving up Cajun favorites from po-boys to jambalaya; and Sliders, a trendy take on cheeseburgers and fries. UTSA Dining is always looking for exciting new menus; the UTSA community is invited to submit ideas via the suggestion box located at the truck.
Not only does the truck serve delicious food, it provides a unique and contemporary dining atmosphere.
"The name Rowdy Curbside mentally invokes the idea of an outdoor urban eatery," said Flores. "I wanted to create a sense of dining on a picnic table underneath string lights while enjoying the community. Overall, my goal was to keep the look of Rowdy Curbside interesting enough to be eye-catching but not cluttered."
Like any food truck, Rowdy Curbside stays on the move, popping up at different locations around Main Campus. Current locations include the North Paseo Building, the Chili's Too courtyard, and the Sombrilla. Follow @UTSADining on Twitter for more information on weekly menus and daily locations, or check out the Rowdy Curbside section on the UTSA Dining website.
- Lauren Beaver
-------------------------------

Learn more about UTSA Campus Services and UTSA Dining
Connect with UTSA online at Facebook, Twitter, YouTube and Instagram.