Commencement Spotlight: Jason Eric Gonzales Martinez '13 wants to educate and inspire others through his art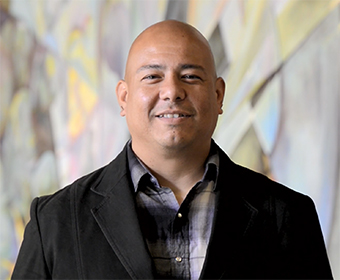 (Dec. 15, 2016) -- Meet Jason Eric Gonzales Martinez '13. He has developed as a sculptor and a local artist while earning his Master of Fine Arts degree at UTSA.
Gonzales Martinez received a bachelor's of art degree from UTSA in 2013, but he saw the potential to grow as an artist. He decided to continue his education by attending the UTSA Graduate School.
"I was interested in the multidisciplinary approach UTSA offers for artists," said Gonzales Martinez. "I was able to refine my sculpting techniques during studio courses, ceramic seminars and develop critical performance art skills through study abroad opportunities."
Gonzales Martinez creates his sculptures and installations using ceramics, textiles and other materials. He also participates in performance art.
"The visual arts program at UTSA has a lot of resources available to students. We have a welding studio, a bronze foundry, an extensive ceramics studio and all the tools I need to create my work," said Gonzales Martinez.
While attending UTSA, he traveled to Peru and Mexico, where he participated in performance art exhibitions and worked alongside international artists.
Those once-in-a-lifetime trips inspired his current sculptures and installations, which share the story of the Mexican American experience. As a graduate student, he took Mexican American Studies courses and researched mestizo cultures, learning from faculty in the UTSA Department of Bicultural-Bilingual Studies.
As a UTSA graduate student, he has collaborated with top-tier UTSA faculty members on art projects that have been on display in his hometown of San Antonio, most recently in creating mobile sculptures out of old repurposed bicycle parts outfitted with lights for Luminaria 2016. He has also participated in exhibitions in Texas, Pennsylvania and Virginia.
"UTSA faculty members are established professional artists and they have provided me with networking opportunities to work with other artists in town," said Gonzales Martinez.
As he reflects on his graduation day, Gonzales Martinez said he's using his skills as an artist to connect with people and hopes his work inspires and educates others.
"To be able to communicate critical ideas through my work is very powerful. UTSA has helped mold me into the professional artist I hoped to become," said Gonzales Martinez.
-------------------------------
View more commencement spotlights at the UTSA Commencement website.
Do you know a Roadrunner who is graduating in May 2017? Share that story with us at social@utsa.edu.
Connect online at Facebook, Twitter, YouTube and Instagram.