UTSA leaders lay out several funding priorities for new state legislative session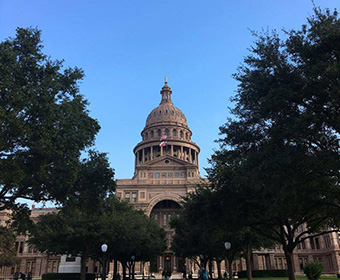 (Jan. 10, 2017) -- Texas legislators are back at work in Austin today for the 85th legislative session. Over the next four months, lawmakers will address the state's many needs including higher education.
UTSA President Ricardo Romo and other university leaders will spend time in Austin to help legislators understand and advance UTSA's priorities. Those priorities include:
Legacy exemptions under the Hazlewood Act
Each year, UTSA foregoes millions of dollars in tuition and fees under the Hazlewood Act, which provides educational opportunities to the families of active and retired military members. Hazlewood exemptions at the university have risen more than 700 percent since 2009. During fiscal year 2016, the impact on UTSA was a record high of more than $12 million and is a projected $14.3 million in fiscal year 2017, totaling approximately $73.1 million since the program began.
UTSA received $1.7 million from the 2015 Legislative Session to help offset unrealized tuition revenue. University leaders will encourage the Legislature to continue providing emergency relief, since the cost of the Legacy exemption is ultimately passed on to other students.
Cyber and cloud computing
UTSA is asking for $5 million to grow its cloud computing research, a new special item request that will expand the university's national leadership in cybersecurity. UTSA's cybersecurity program is ranked No. 1 in the United States. UTSA is also home to the only certification center in the United States for new open cloud project working designs and hardware.
The cyber and cloud computing request will allow UTSA to further assist Texas government agencies through the Texas Department of Information Resources, evaluate commercial and/or government security products in an isolated secure cyber and cloud testing environment, help small and mid-sized businesses grow, and develop and train the workforce in cybersecurity and cloud computing through added certification preparation and degree programs.
San Antonio Life Sciences Institute
This special item request is to continue the momentum of the San Antonio Life Sciences Institute (SALSI), UTSA and UT Health - San Antonio's collaborative research and teaching partnership. The research program was established in 2003 and has advanced knowledge in many areas including brain health, drug discovery and neuroimmunology.
UTSA is asking for $4 million to leverage the strengths of each campus to benefit student education and research experiences. Faculty expertise and research laboratories at both campuses provide students with a valuable education. The program provides a model of how other academic institutions and health science centers can collaborate to maximize their strengths and advance joint education and research priorities.
Preserve the Texas Research Incentive Program (TRIP)
The TRIP fund provides matching funds to institutions that have raised private gifts and endowments to support research activities, playing a vital role in UTSA's efforts to become a Tier One research university.
UTSA will encourage the Legislature to continue TRIP and increase the magnitude to help address the ongoing backlog of unfunded, eligible matching gifts. UTSA currently has $10.7 million in eligible gifts waiting to be matched.
UTSA is ranked among the top 400 universities in the world and among the top 100 in the nation, according to Times Higher Education.
The Bexar County Legislative Delegation
Texas House of Representatives
Speaker Joe Straus, District 121
Rep. Diana Arevalo, District 116
Rep. Philip Cortez, District 117
Rep. Tomas Uresti, District 118
Rep. Roland Gutierrez, District 119
Rep. Barbara Gervin Hawkins, District 120
Rep. Lyle Larson, District 122
Rep. Diego Bernal, District 123
Rep. Ina Minjarez, District 124
Rep. Justin Rodriguez, District 125
Texas Senate
Lieutenant Governor Dan Patrick
Sen. Carlos Uresti, District 19
Sen. Judith Zaffirini, District 21
Sen. Donna Campbell, District 25
Sen. Jose Menendez, District 26
-------------------------------
Look for updates throughout the Legislative session on UTSA Today.
For more information, visit the Texas Legislature website.
Connect with UTSA online at Facebook, Twitter, YouTube, Instagram and LinkedIn.