Eating healthy is easy for students at UTSA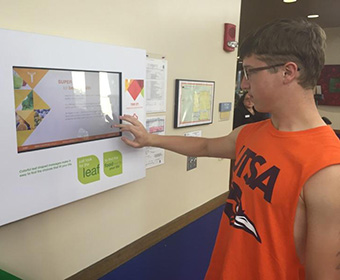 (Feb. 22, 2017) -- Keeping your body fueled is an important part of learning. Students at The University of Texas at San Antonio (UTSA) have several resources to help them make healthy eating choices on campus.
Healthy for Life, a program offered at the Roadrunner Café, provides nutritional information for pre-made food, allowing students to understand exactly what they're eating. Easy-to-use icons appear at each dining station, identifying options that are low calorie, low sodium, low fat, vegetarian, vegan, made with whole grains. They're also found on the interactive wellness screen students can use at the entrance to the Roadrunner Café.
UTSA Dining, along with Aramark, the contracted vendor that provides food service through UTSA Dining and Campus Services, established Healthy for Life to help students make lasting nutritional and wellness choices on and off campus.
"By making healthy options easy to locate on the touchscreen and dining stations, partnered with educational tabling and articles, students learn about healthy choices in an interactive way," said Sarah Caruso, Aramark marketing manager at UTSA. "This provides the ability to make quality decisions about wellness, while getting the nutrition needed to focus and succeed in the classroom."
The touch screens and nutritional cards have been a big help to UTSA communications sophomore Yi-Ting Chung.
"I use the screens and cards to check for calories and sodium," Chung said. "I like the nutritional cards due to all of the information provided. It helps to make sound choices between food items."
Icons can also be found on the UTSA Dining website, the Campusdish mobile app. A full list of nutritional categories and identifying icons is available online.
In addition to the Roadrunner Café, national brand restaurants on campus offer a variety of healthy selections. Mooyah has a black bean burger for vegetarians, a turkey burger for a leaner option and a lettuce wrap. Chick-fil-A offers grilled chicken sandwiches and the Market Salad, while Subway — a great place to load up on vegetables and whole grain bread —provides Fresh Fit choices.
Students who want a sit-down experience at a restaurant can visit Chili's Too where they can pair Chili's favorites with a soup or salad. At the John Peace Library (JPL) food court, Greens to Go is a healthy alternative, with more than 10,800 customizable combinations of hand-crafted, made-to-order salads and wraps. Nearly all restaurants at UTSA label healthier options on their menus as Fit Picks.
Additionally, the Roadrunner Café partners with Por Vida, a San Antonio program aimed at identifying healthier choices that fall under the guidelines listed on the Por Vida website. UTSA Dining educates students on Por Vida by including the Por Vida logo next to approved menu items.
Looking to the future, Aramark is partnering with the American Heart Association for the 20 by 20 Initiative: By 2020, the Roadrunner Café will increase fruits, vegetables and whole grains and decrease calories, saturated fats and sodium by 20 percent.
For people with limited dietary restrictions and those who need additional assistance determining foods that fit their lifestyle, UTSA Dining provides friendly and supportive staff to help create individual dietary plans.
-------------------------------
For more information or assistance, contact UTSA Dining at (210) 458-6352 or Campus Services at (210) 458-7275..
Learn more about UTSA Dining.
Connect with UTSA online at Facebook, Twitter, YouTube, Instagram and LinkedIn.