UTSA faculty helping public authorities update their housing policies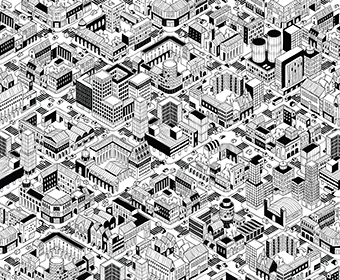 (Feb. 15, 2017) -- UTSA faculty are helping public housing authorities update their admission policies for individuals with criminal records. The goal is to help reduce recidivism and remove barriers to successful reentry for former inmates through assisted public housing, while also keeping tenant and property safe.
"Public housing authorities, and even many private housing providers, use criminal background checks in admissions criteria," said Rebecca J. Walter, Ph.D. UTSA assistant professor of Urban and Regional Planning. "In light of new direction from the U.S. Department of Housing and Urban Development, however, many scholars and housing providers are examining the role of these criminal background checks in the process."
The Fair Housing Act, enacted in 1968, protects people from discrimination when renting, buying or securing financing for housing. In 2016, the U.S. Department of Housing and Urban Development (HUD) issued guidance to public housing authorities (and housing providers in the private market) across the country to revisit the use of criminal records for admitting tenant.
In a new paper, Walter and her co-authors, Jill Viglione, Ph.D., and Marie Skubak Tillyer, Ph.D., from the UTSA Department of Criminal Justice, outline steps that public housing authorities can take to balance compliance with the Fair Housing Act with the need to keep their tenant population safe.
According to the researchers, many public housing providers are still using admissions criteria borne out of the tough-on-crime policies of the 1980s. These "one-strike" policies made it difficult for individuals with criminal records to reintegrate into society, which is why the federal government has since advocated a "second chances" approach.
"Obtaining stable housing is a critical need for individuals returning from incarceration to the community," Viglione said. "As a result of not finding housing post-release, individuals returning to society can face obstacles like residential instability and frequent moves, which have been linked to a likelihood to reoffend."
In addition, because black and Hispanic men are overrepresented in the U.S. prison system, denying housing based solely on criminal history could result in discrimination and violate the Fair Housing Act.
The researchers say that housing agencies should develop policies that consider a range of factors related to recidivism when making admission decisions, rather than simply relying on whether or not an applicant has ever been involved in the criminal justice system.
"We recommend that admission policies take into account the extent of criminal history, including types of crime and length of time since last conviction," Tillyer said. "It is also important to consider employment status, family support and participation in treatment and rehabilitation programs."
The researchers point to a successful two-step admissions policy created by the Housing Authority of New Orleans as a model other public housing authorities could seek to emulate. In 2016, the New Orleans authority enacted new policy that eliminated a ban on providing assisted housing to people with criminal records and instead focused on a process that reviewed each applicant on an individual, case-by-case basis.
UTSA is ranked among the top 400 universities in the world and among the top 100 in the nation, according to Times Higher Education.
-------------------------------
The project is related to an ongoing research initiative at UTSA studying effectiveness of social services and resources helping former jail and prison inmates successfully reenter society.
Learn about UTSA Urban and Regional Planning, based in the College of Architecture, Construction and Planning.
Learn about the UTSA Department of Criminal Justice, based in the College of Public Policy.
Connect with UTSA online at Facebook, Twitter, YouTube, Instagram and LinkedIn.
Events
This UTSA student exhibit features the work of anthropology students who have examined the effects tourism has on local culture.
UTSA Institute of Texan Cultures, Hemisfair Campus
Students from grades 9 to 12 at Brooks Academy of Science and Engineering delved into their family histories and turned their family photos into artworks.
UTSA Institute of Texan Cultures, Hemisfair Campus
UTSA's John Nix invites the community to sing "Amazing Grace" and "We Shall Overcome" at 11 a.m. on Martin Luther King Jr. Day. The intent of this nationwide effort is to honor Dr. King's legacy and to spread a sense of community in the United States.    
Locations throughout the United States
The annual event features authentic foods, music, dance, martial arts, shopping, games and entertainment from China, to the Indian Sub-continent, and the island nations of the Pacific. The Festival features two stages, a martial arts demonstration area, children's hands on crafting area, anime activities, bonsai and ikebana displays, mahjong table and more.
UTSA Institute of Texan Cultures, Hemisfair Campus
Level up your career with a graduate business degree from the UTSA College of Business. Join us for this Open House to learn which of our 13 degree programs is right for you.
Business Building (BB 2.06.04), Main Campus
Basura Bash is a one-day, all-volunteer event to clean the San Antonio Watershed. For the past 24 years volunteers have cleaned area waterways. Join the UTSA community for the 25th Annual Basura Bash Waterways Cleanup.
Maverick Creek, near Brackenridge Lot 5, Main Campus
UTSA Day is an Open House and one of the best ways to see what it is like to be part of the UTSA Family! Schedule a visit the way you want, based on your interests and time. Learn more about the next steps on becoming a Roadrunner!
Various locations, Main Campus
Diploma Dash is a fast, certified 5k course for runners and a scenic route around Main Campus for walkers, strollers and dogs! There are individual and team prizes. Benefits UTSA students through the UTSA Alumni Association scholarship program.
UTSA Main Campus
---