UTSA faculty helping public authorities update their housing policies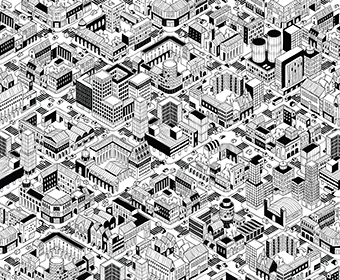 (Feb. 15, 2017) -- UTSA faculty are helping public housing authorities update their admission policies for individuals with criminal records. The goal is to help reduce recidivism and remove barriers to successful reentry for former inmates through assisted public housing, while also keeping tenant and property safe.
"Public housing authorities, and even many private housing providers, use criminal background checks in admissions criteria," said Rebecca J. Walter, Ph.D. UTSA assistant professor of Urban and Regional Planning. "In light of new direction from the U.S. Department of Housing and Urban Development, however, many scholars and housing providers are examining the role of these criminal background checks in the process."
The Fair Housing Act, enacted in 1968, protects people from discrimination when renting, buying or securing financing for housing. In 2016, the U.S. Department of Housing and Urban Development (HUD) issued guidance to public housing authorities (and housing providers in the private market) across the country to revisit the use of criminal records for admitting tenant.
In a new paper, Walter and her co-authors, Jill Viglione, Ph.D., and Marie Skubak Tillyer, Ph.D., from the UTSA Department of Criminal Justice, outline steps that public housing authorities can take to balance compliance with the Fair Housing Act with the need to keep their tenant population safe.
According to the researchers, many public housing providers are still using admissions criteria borne out of the tough-on-crime policies of the 1980s. These "one-strike" policies made it difficult for individuals with criminal records to reintegrate into society, which is why the federal government has since advocated a "second chances" approach.
"Obtaining stable housing is a critical need for individuals returning from incarceration to the community," Viglione said. "As a result of not finding housing post-release, individuals returning to society can face obstacles like residential instability and frequent moves, which have been linked to a likelihood to reoffend."
In addition, because black and Hispanic men are overrepresented in the U.S. prison system, denying housing based solely on criminal history could result in discrimination and violate the Fair Housing Act.
The researchers say that housing agencies should develop policies that consider a range of factors related to recidivism when making admission decisions, rather than simply relying on whether or not an applicant has ever been involved in the criminal justice system.
"We recommend that admission policies take into account the extent of criminal history, including types of crime and length of time since last conviction," Tillyer said. "It is also important to consider employment status, family support and participation in treatment and rehabilitation programs."
The researchers point to a successful two-step admissions policy created by the Housing Authority of New Orleans as a model other public housing authorities could seek to emulate. In 2016, the New Orleans authority enacted new policy that eliminated a ban on providing assisted housing to people with criminal records and instead focused on a process that reviewed each applicant on an individual, case-by-case basis.
UTSA is ranked among the top 400 universities in the world and among the top 100 in the nation, according to Times Higher Education.
-------------------------------
The project is related to an ongoing research initiative at UTSA studying effectiveness of social services and resources helping former jail and prison inmates successfully reenter society.
Learn about UTSA Urban and Regional Planning, based in the College of Architecture, Construction and Planning.
Learn about the UTSA Department of Criminal Justice, based in the College of Public Policy.
Connect with UTSA online at Facebook, Twitter, YouTube, Instagram and LinkedIn.
Events
The UTSA Women's Studies Institute and Women's Studies Program will feature film screenings, provide lectures and book readings that promote diversity and focus on achieving social justice and women's empowerment.
Various locations, Main, Downtown and Hemisfair Campuses
The exhibition is a juried competition featuring recent work by UTSA undergraduate and graduate students.  The selected works represent the full range of materials, methods, and techniques, ranging from traditional processes to contemporary digital photography and video.
Arts Building Main Art Gallery (ART 2.03.04), Main Campus
UTSA and the San Antonio Express-News will jointly host a town hall meeting where panelists will discuss various aspects of the broad topic of school funding in Texas. It's free and open to the public.
Buena Vista Street Building Theater (BVB 1.326), Downtown Campus
Annual memorial event honoring members of the UTSA community who passed away in the previous year.
Student Union Retama Auditorium (SU 2.02.02,) Main Campus
Amin Qutub, UTSA associate professor of biomedical engineering, will introduce the latest advances in science and technology illustrating how daily behaviors influence the ability of our brain cells to repair and regenerate, enabling a future that optimizes brain health.
McNay Art Museum, 6000 N. New Braunfels, San Antonio
UTSA faculty and staff are encouraged to share thoughts, experiences and ideas on inclusive excellence at UTSA.
Student Union Anaqua Room (SU 2.03.08), Main Campus
March Into Your Major is an event for students who are unsure of their major, have chosen a major but are not sure it's the right fit for them or students who are confident of their choice of major but are unsure of what careers they can actually pursue with their major.
Convocation Center, Main Campus
As part of UTSA's 50th Anniversary celebration, Fred Schneider, computer science professor at Cornell University, will speak on Impediments to Incentivizing Cyber-security Investment." The lecture is free and open to the public.
Biosciences Building Loeffler Room (BSB 3.03.22), Main Campus
---