Meet a Roadrunner: Lucas O'Brien overcame a heart condition to become a star athlete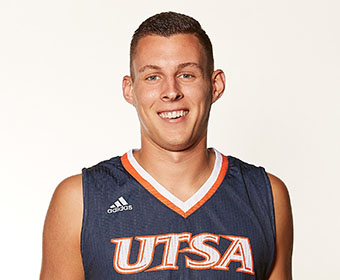 (Feb. 1, 2017) -- Meet Lucas O'Brien. This UTSA graduate student excels on and off the basketball court.
Born in South Dakota, O'Brien grew up in a military family and moved around a lot when he was younger. After his dad retired from the military, his family settled in Arizona and he began playing basketball for the fun of it.
By high school, O'Brien was standing at 6'10" and knew he had a future in basketball. He explored the opportunity to play for various college teams. After an official visit to UTSA during his senior year of high school, he knew he was meant to be a Roadrunner.
"UTSA was definitely the best fit for me. I could just see myself here long-term," said O'Brien.
Although O'Brien had his sights set on playing for UTSA, things weren't always easy. Shortly after moving to San Antonio, the basketball star was diagnosed with a heart condition. It sidelined him for the entire 2012-2013 season.
But O'Brien was determined to finish what he started, and he was committed to staying at UTSA no matter what life threw at him.
"Over the years, I've learned how to trust the process and find my purpose."
After a few surgeries and months of recovery, O'Brien re-joined the 'Runners stronger than ever.
He completed his bachelor's degree in May 2016 and is currently working on his M.B.A.
Over the last few years, the student-athlete has learned to balance his education with basketball. He's also balancing wedding planning. He'll marry UTSA alumna Kylie Schott in May.
O'Brien credits Director of Athletics Lynn Hickey for serving as an influential mentor and support system during his years at UTSA.
"She is one of my biggest mentors. She has been there for me on and off the court, especially during my time in the hospital when I was dealing with my heart condition."
On track to graduate with his master's degree in December, O'Brien is ready to enter the workforce. He's planning a career in business.
In the short time he has remaining at UTSA, he wants to win more games with the basketball team. More importantly, he wants to leave a longstanding impact on the program and his teammates.
"UTSA has had a huge impact on my life," he said. "The ripples that UTSA has created for me… from the relationships to the opportunities to my education, I can't thank UTSA enough for all that it has given me."
He wants future Roadrunners to know that UTSA is unique and unlike any other university out there.
"You're not just a number here. This university has heart and a genuine family feeling that other places don't have," said O'Brien. "I will always cherish my time here. If it wasn't for UTSA, I wouldn't be where I am today."
-------------------------------
Do you know a Roadrunner who is achieving great things? Email us at social@utsa.edu so that we may consider your suggestion for our next installment of Meet a Roadrunner.
Connect with UTSA online at Facebook, Twitter, YouTube, Instagram and LinkedIn.
Events
This UTSA student exhibit features the work of anthropology students who have examined the effects tourism has on local culture.
UTSA Institute of Texan Cultures, Hemisfair Campus
Students from grades 9 to 12 at Brooks Academy of Science and Engineering delved into their family histories and turned their family photos into artworks.
UTSA Institute of Texan Cultures, Hemisfair Campus
The first ceremony begins at 10 a.m. honors graduates from the College of Architecture, Construction and Planning, College of Business, College of Education and Human Development and College of Public Policy.
Alamodome, 100 Montana St., San Antonio
At 4 p.m., the second ceremony will be held to honor graduates from the College of Engineering, College of Liberal and Fine Arts, College of Science and the University College.
Alamodome, 100 Montana St., San Antonio
UTSA's John Nix invites the community to sing "Amazing Grace" and "We Shall Overcome" at 11 a.m. on Martin Luther King Jr. Day. The intent of this nationwide effort is to honor Dr. King's legacy and to spread a sense of community in the United States.    
Locations throughout the United States
The annual event features authentic foods, music, dance, martial arts, shopping, games and entertainment from China, to the Indian Sub-continent, and the island nations of the Pacific. The Festival features two stages, a martial arts demonstration area, children's hands on crafting area, anime activities, bonsai and ikebana displays, mahjong table and more.
UTSA Institute of Texan Cultures, Hemisfair Campus
Level up your career with a graduate business degree from the UTSA College of Business. Join us for this Open House to learn which of our 13 degree programs is right for you.
Business Building (BB 2.06.04), Main Campus
UTSA Day is an Open House and one of the best ways to see what it is like to be part of the UTSA Family! Schedule a visit the way you want, based on your interests and time. Learn more about the next steps on becoming a Roadrunner!
Various locations, Main Campus
---