UTSA students and alumni advocate special project items to state lawmakers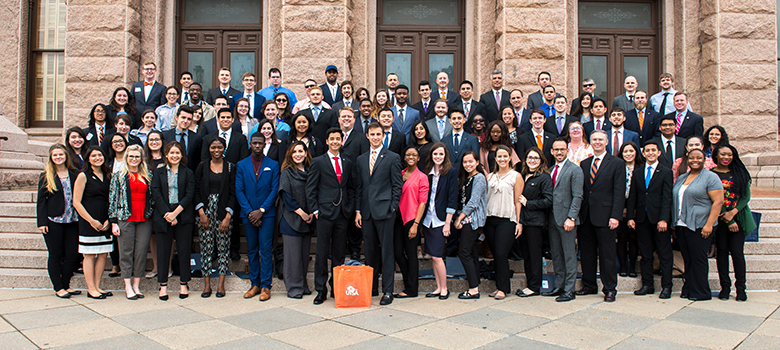 UTSA Student Government President Andrew Hubbard joined a delegation of UTSA students, alumni, faculty and staff this week for UTSA Day at the Capitol. He shares the experience of telling the UTSA story to state lawmakers.
(Feb. 16, 2017) -- On Tuesday, more than 80 UTSA students, alumni, faculty and staff climbed the steps of the Texas State Capitol to collectively tell the UTSA story. They included members of the Student Government Association (SGA) and the UTSA Alumni Association, and students from the Honors College Student Leadership Council, the Public Administration Student Organization, Honors Alliance, and a class taught by Walter Wilson, UTSA associate professor of political science.
Every odd numbered year when the Texas legislature meets for regular session, SGA helps facilitate "UTSA Day at the Capitol" to give students an opportunity to personally reach out and communicate to our state representatives. By participating, the students learn valuable skills such as public speaking, professionalism, and communication. The representatives also benefit as they get an opportunity to speak directly to the constituents they represent.
The UTSA delegation divided into seven different groups. Those seven groups participated in more than 25 meetings with different representatives and/or their staff members. The majority of the Bexar County representatives were reached along with the Senate Finance Chair and Vice Chair and Speaker Joe Straus. Each office was given a presentation of different ways the university provides value back to the State of Texas.
This year was the most students we have ever sent to the Capitol in the program's history. According to one staff member from State Senator Gina Hinojosa's office, our group was the most articulate, well-presented, and organized group of students she had ever interacted with. Our students were indeed incredibly effective in talking about the importance of special project items such as the UTSA Small Business Development Center, San Antonio Life Science Institute, UTSA Institute of Texan Cultures, our Cybersecurity Department and many others.
After spending the morning at the Capitol, our UTSA delegation had lunch with UTSA alum and Texas Secretary of State Rolando B. Pablos and members of his office. He spoke on his role in the state government and the importance of building your network as a young professional. He took quite a few questions and spent time with our alumni.
As a member of the UTSA community, I was so incredibly proud to serve alongside my fellow Roadrunners and tell others about the great strides we are making and how we are not slowing down anytime soon. UTSA is a community of scholars and our Day at the Capitol exemplified that in a meaningful way.
Special thanks to Rebecca Conejo, SGA legislative director, Tammy Ramos, assistant director of Government Relations, Albert Carrisalez, executive director of Government Relations, Barry McKinney, associate dean of students and Anne Englert, alumni programs, director for facilitating this event.
Andrew Hubbard
President of the UTSA Student Body
-------------------------------
Learn more about UTSA's legislative priorities in 2017.
Connect with UTSA online at Facebook, Twitter, YouTube, Instagram and LinkedIn.