More students are pursuing graduate degrees at UTSA this spring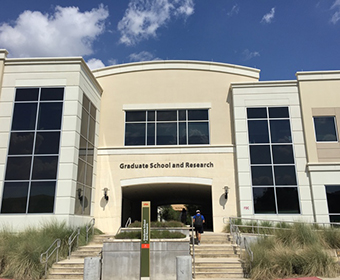 (Feb. 15, 2017) -- New census numbers released by the UTSA Office of Institutional Research show there are more than 500 students enrolled in spring classes at UTSA than there were a year ago.
Additionally, the number of postbaccalaureate, master's and doctoral students is on the rise for spring. About 4,400 UTSA students are pursuing post-baccalaureate or graduate degrees this semester, compared to about 4,100 during spring 2016.
While many UTSA students opt to begin classes in the fall semester, spring has provided an entry point for almost 2,000 first-time college students and transfer students. That's nearly 600 more new students than one year ago.
The largest number of UTSA students are majoring in programs offered by the UTSA College of Liberal and Fine Arts. More than 5,800 COLFA students study in one of eleven academic areas, such as Art and Art History, Communications, Music, Political Science and Geography, or Sociology. The UTSA College of Business has the second largest enrollment with 5,503 students.
UTSA continues to attract a diverse group of students. About half of the student population identifies as Hispanic. An additional 1,000 students are international students who together represent 94 countries.
Bexar County remains the largest source of students for UTSA. In total, 12,994 enrolled students are residents of Bexar County. The second highest student population, nearly 2,000, comes from the Houston area. The number of Roadrunners from Travis County is also up this semester. Nearly 900 have moved from the Austin area to attend UTSA.
UTSA is an emerging Tier One research institution specializing in health, energy, security, sustainability, and human and social development. It is ranked among the top 400 universities in the world and among the top 100 in the nation, according to Times Higher Education.
-------------------------------
Learn more about UTSA.
Learn more about Undergraduate admissions.
Learn more about Graduate admissions.
Connect with UTSA online at Facebook, Twitter, YouTube, Instagram and LinkedIn.
Events
In honor of UTSA's 50th Anniversary in 2019, the university is hosting Roadrunner Days Spring Edition - two weeks of semester-launching activities built around our deeply held values of student success, student involvement, community service and fun!
Various locations, Main and Downtown Campuses
Opening Reception got exhibit featuring artists Miguel Aragon, Aaron Coleman, Sandra Fernandez, Annalise Gratovich, Marco Hernandez, Kristen Powers Nowlin, & Patricia Villalobos Echeverria
Main Art Gallery, Arts Building (ART 2.03.04), Main Campus
Tracy Cowden, Roland K. Blumberg Endowed Professor in Music and chair of the UTSA Department of Music launches the UTSA 50th Anniversary Scholars Speaker Series with Music as Medicine: The Power and Influence of Music on our Health.
Radius Center, 411 E. Martin, San Antonio
UTSA African American Studies Program presents this series featuring Walter M. Kimbrough, president of Dillard University.
Student Union Retama Auditorium (SU 2.02.02), Main Campus)
Join fellow Runners to walk for 10 minutes on the Main Campus. The event reminds us of the importance of exercise, diet and healthy habits in protecting our hearts.
Outside the North Paseo Building, Main Campus
The annual event features authentic foods, music, dance, martial arts, shopping, games and entertainment from China, to the Indian Sub-continent, and the island nations of the Pacific. The Festival features two stages, a martial arts demonstration area, children's hands on crafting area, anime activities, bonsai and ikebana displays, mahjong table and more.
UTSA Institute of Texan Cultures, Hemisfair Campus
UTSA Libraries will host Bryan Gervais, UTSA assistant professor in the Dept. of Political Science & Geography, for his presentation "Political Incivility in the Digital Age." Pizza will be provided to UTSA students while supplies last.
John Peace Library Assembly Room (JPL 4.04.22)
Level up your career with a graduate business degree from the UTSA College of Business. Join us for this Open House to learn which of our 13 degree programs is right for you.
Business Building (BB 2.06.04), Main Campus
---