UTSA students, alumni and leaders visit state lawmakers in Austin today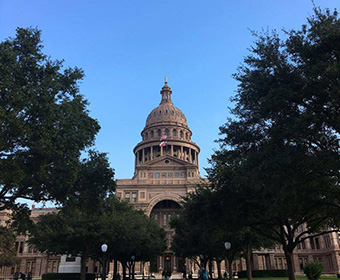 (Feb. 14, 2017) -- A delegation from The University of Texas at San Antonio (UTSA) will make their voices heard today during the 85th Texas legislative session. UTSA leaders, members of the UTSA Student Government Association (SGA) and more than 85 other UTSA students and alumni will travel to Austin for UTSA Day at the Capitol.
This year's delegation is the largest group of students that UTSA has ever had at the Capitol. The trip is an opportunity for Roadrunners to speak with legislators on behalf of the university about the issues that are important in helping UTSA achieve Tier One status.
"We will climb the steps of the Capitol to tell our story to the lawmakers who can create opportunities that help UTSA continue to grow," said Andrew Hubbard, UTSA SGA president. "We will represent our university with pride and encourage students and alumni to become more civically engaged by speaking with those who represent us. We are looking forward to a positive experience."
While in Austin, the UTSA collective will split up into groups, visiting with several members of the Bexar County legislative delegation and many other Texas senators and representatives.
UTSA has four priorities this legislative session. They include encouraging the Legislature to continue providing emergency relief for the legacy exemption under the Hazlewood Act, requesting $5 million to grow UTSA's nationally superior cloud computing research and $4 million to leverage student education and research experiences under UTSA's partnership with the San Antonio Life Sciences Institute (SALSI) and UT Health - San Antonio. UTSA is also asking the Legislature to preserve the Texas Research Incentive Program (TRIP), which provides matching funds to institutions that have raised private gifts and endowments to support research activities. UTSA currently has $10.7 million in eligible gifts waiting to be matched.
UTSA is ranked among the top 400 universities in the world and among the top 100 in the nation, according to Times Higher Education.
-------------------------------
Learn more about UTSA's legislative priorities in 2017.
Connect with UTSA online at Facebook, Twitter, YouTube, Instagram and LinkedIn.