UTSA faculty and staff share research and insight about education at SXSWedu Conference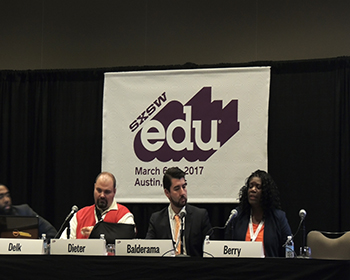 (March 10, 2017) -- Faculty and staff from the UTSA Institute for P-20 Initiatives, the Office of Information Technology, the Graduate School and the Department of Kinesiology, Health and Nutrition, had the remarkable opportunity to represent the university at this year's SXSWedu conference.
Darrell Balderrama, director of Retention Programs and Theodorea Berry, Ed.D., associate dean of Academic Affairs and director of Recruitment and Engagement, along with Vanessa Kenon, Ed.D., assistant vice provost for the Office of Information Technology, were selected to serve as speakers at the internationally-recognized education conference in Austin this week.
Prior to their selection, the UTSA team submitted proposals to the SXSWedu PanelPicker, a worldwide platform that allows members of the SXSWedu community to suggest engaging and innovative content for presentations, panels and summits.
Once submitted, proposals go through a two-fold voting process, which first includes crowdsourcing from the public, and then from SXSW staff and its advisory board. The UTSA team's proposals were among more than 240 to be accepted out of the 1,300 submitted for this year's event.
Balderrama and Berry's panel entitled "Making the Transition: 1st Gen. to Graduate School," explored research on various initiatives employed at higher education institutions to support underserved students in their graduate school pursuits. During the discussion, they highlighted TRIO Programs and the UTSA Institute for P-20 Initiatives, which are specially designed to provide students access to higher education.
Their session was part of a summit organized by Langston Clark, Ph.D., assistant professor in the UTSA Department of Kinesiology, Health and Nutrition which also included two other panel presentations moderated by representatives from other institutions.
Dr. Kenon served as a panelist for two sessions in which she presented research. The first was a was a special session entitled "Partnership and Collaboration- Institutional Perspectives of Scale." The second session enabled her to deeply delve into innovative research regarding the Bill and Melinda Gates Foundation Integrated Planning and Advising for Student Success (iPASS) grant and its effects in fostering student success and enhancing the role of advisors, faculty and staff.
She discussed different advising technologies including the degree auditing tool DegreeWorks and the Education Advisory Board's Student Success Collaborative (EAB/SSC), which have been implemented in part by the support of this grant.
"I'm excited to see the great presence of UTSA faculty and staff presenting this year," said Dr. Kenon. "They have represented UTSA so well."
SXSWedu unites students and educational professionals from across the United States annually for a series of keynote addresses, summits, workshops and discussions focused on innovation in learning.
-------------------------------
Learn more about SXSWedu.
Learn more about UTSA Office of Information Technology.
Learn more about UTSA Institute for P-20 Initiatives.
Learn more about The UTSA Graduate School.
Connect with UTSA online at Facebook, Twitter, YouTube, Instagram and LinkedIn.
Events
The UTSA Women's Studies Institute and Women's Studies Program will feature film screenings, provide lectures and book readings that promote diversity and focus on achieving social justice and women's empowerment.
Various locations, Main, Downtown and Hemisfair Campuses
Amin Qutub, UTSA associate professor of biomedical engineering, will introduce the latest advances in science and technology illustrating how daily behaviors influence the ability of our brain cells to repair and regenerate, enabling a future that optimizes brain health.
McNay Art Museum, 6000 N. New Braunfels, San Antonio
UTSA psychology professor Kolleen Guy delivers the 2019 Last Lecture: "How to Live BIG (by starting small)."
Student Union Retama Auditorium (SU 2.02.02), Main Campus
UTSA faculty and staff are encouraged to share thoughts, experiences and ideas on inclusive excellence at UTSA.
Student Union Anaqua Room (SU 2.03.08), Main Campus
March Into Your Major is an event for students who are unsure of their major, have chosen a major but are not sure it's the right fit for them or students who are confident of their choice of major but are unsure of what careers they can actually pursue with their major.
Convocation Center, Main Campus
As part of UTSA's 50th Anniversary celebration, Fred Schneider, computer science professor at Cornell University, will speak on Impediments to Incentivizing Cyber-security Investment." The lecture is free and open to the public.
Biosciences Building Loeffler Room (BSB 3.03.22), Main Campus
UTSA students, faculty, staff and alumni will join the San Antonio community this weekend for the 23rd Annual César E. Chávez March for Justice. VIA will provide free roundtrip Park and Ride service for students, faculty and staff between the UTSA Downtown Campus and the march.
Guadalupe and S. Brazos St., San Antonio
Rowdy's Roadshow will take place in Houston, Dallas/Fort Worth, the Rio Grande Valley and San Antonio. Roadshow events offer opportunities to meet other students, faculty and staff, sign up for Orientation and get Rowdy Ready.
Cities across Texas
---