UTSA students conquer new challenges at Big Bend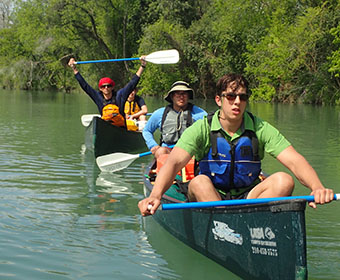 (March 21, 2017) -- A group of students from The University of Texas at San Antonio (UTSA) traded in their warm beds, home cooked meals and cell phones for tents, campfire dinners and a technology-free lifestyle during spring break. They traveled to West Texas for Big Bend Paddle and Pack, a nine-day backpacking and whitewater canoe trip organized through UTSA Outdoor Pursuits.
"We are the outdoor athletes of UTSA Campus Recreation," said Dave Denny, assistant director of UTSA Outdoor Pursuits. "Our mission is to enrich personal wellness and give students diverse experiences."
During the adventure, Denny and nine UTSA students spent the first three days backpacking through the Rancherias Loop in Big Bend Ranch State Park, sleeping in tents along the mountain. Although no prior experience was necessary, the UTSA participants began preparing for the challenges long before they left.
"We learned logistics, meal planning, safety, decision making skills and how to keep spirits high among the group," said Sarah Smith, UTSA psychology junior, who also served as a trip leader. "We coordinated everyone's responsibilities and took turns leading and following with the other student leaders."
On the fourth day of the trip, the group planned to trade in their hiking boots for tandem canoes and running rapids to travel through Santa Elena Canyon in Big Bend National Park. However, the water levels were too low, so they had to come up with another plan.
"In every trip, we face the unexpected. We call it the x-factor," Denny said. Trip leaders had to be ready, innovative and courageous. We all learned what to do when faced with adversity and the unexpected."
They settled for a three-day expedition down the San Marcos River near San Marcos. They lived out of their canoes without vehicle support, carrying food and equipment while camping along the river. Each participant led a three-mile section, reading the water and letting the rest of the crew know which route to take and hazards to avoid.
Every Outdoor Pursuits trip instills three learning outcomes: technical skills, community engagement and transference.
"The hike is not just a hike. The uphill climb could be midterms or finals," Smith said. "If we are in a rapid and our canoe flips over, how does that apply to life and how does it make us stronger as a person? If you conquered these, you learn to conquer other challenges in life."
Outdoor Pursuits offers a variety of adventures throughout the semester, including mountain biking through the San Antonio Missions, surfing at Port Aransas, rock climbing at Enchanted Rock, and river canoeing and kayaking trips.
"It's one of the best deals you can get on campus," Denny said. "Our trips are low cost and you meet great people. We teach students everything they need to know. The trips are designed to help students succeed."
Outdoor Pursuits also rents out tents, canoes, bikes, stand up paddleboards and camping supplies to UTSA students, free of charge.
"It's one of the many things UTSA offers that you should take advantage of while you're here," said Smith. "It's such a great opportunity to step outside your comfort zone and try something new in a safe environment. And it's a ton of fun."
-------------------------------
Learn more about UTSA Outdoor Pursuits.
Learn more about UTSA Campus Recreation.
Connect with UTSA online at Facebook, Twitter, YouTube, Instagram and LinkedIn.