UTSA dietetics program teaches students, community how to eat right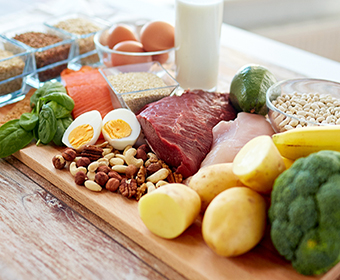 (March 15, 2017) -- Interested in creating healthy eating habits? Want to help others live a healthier lifestyle? A growing program at UTSA is giving students a scientific understanding of diet and its effects on health and disease prevention.
The UTSA Coordinated Program in Dietetics, based in the College of Education and Human Development's Department of Kinesiology, Health and Nutrition, teaches students all about nutrition, diet and health through its joint Bachelor of Science in Dietetics and Nutrition and its Master of Dietetic Studies degrees.
Through course work and service-learning opportunities, UTSA students gain knowledge regarding the role of nutrition across the human lifespan. The program focuses on health promotion and the prevention and management of chronic disease through nutrition. Students are trained on strategies and solutions to improve health, including individual counseling, group education, community program planning and culinary nutrition techniques.
UTSA students enrolled in the program complete 1,200 hours of supervised experiences in a variety of settings including community nutrition organizations, child nutrition programs, specialty practices, clinics, hospitals and the food service industry. Through advanced course work and independent study, students also sharpen their research skills by participating in studies that promote health and wellness.
"Our goal is to empower students to become experts, leaders and critical thinkers in the field of nutrition and dietetics," said Liset Leal-Vasquez, director of the Coordinated Program in Dietetics and a UTSA senior lecturer. "There are many inherent challenges with improving our own health and the health of others. It is important that our students are fully prepared to work in all types of settings."
Students who complete the program are prepared for variety of careers. Credentialed professionals, who are registered through the Commission of Dietetics Registration and licensed to practice through the Texas State Commission of Licensing and Regulation for Dietitians can work at the local, state and national level in public, private and non-profit sectors.
"We prepare students to apply their knowledge and skills to serve their communities, and especially those populations in their community that are underrepresented and at a great risk for health issues such as obesity and diabetes," Leal-Vasquez said. "Our program is helping educate the people who will be tackling these community health problems in the future."
Eric Ortiz, a junior in the Coordinated Program in Dietetics, is pursuing UTSA's joint bachelor's and master's degree in nutrition and dietetics. He enrolled in the program to better understand nutrition's role in the growth and development of the human body. In the future, he hopes to work at a children's hospital as a pediatric oncology dietician in order to ease recovery efforts for children with cancer.
"The knowledge I am acquiring from the UTSA program is helping me explore different ways that nutrients can be delivered to medical patients, particularly those with cancer, to prevent further complications that could arise from treatment," Ortiz said.
The UTSA Coordinated Program in Dietetics also offers a minor in nutrition to biology, health and kinesiology majors.
In the future, UTSA aims to expand the program to include additional certificates, specialized master's degree options and additional community training and professional development opportunities.
"People are becoming more aware of the need for professionals who understand nutrition and healthy eating habits as a means for prevention," Ortiz said. "I've started thinking of dietetics as not only a passion of mine but also as an investment in my career. Because this program offers an undergraduate and graduate degree, UTSA is giving me a competitive advantage when it comes to getting a top job after I graduate."
UTSA is ranked among the top 400 universities in the world and among the top 100 in the nation, according to Times Higher Education.
-------------------------------
Learn more about the UTSA Coordinated Program in Dietetics online or by contacting Liset Leal-Vasquez at Liset.LealVasquez@utsa.edu.
Connect with UTSA online at Facebook, Twitter, YouTube, Instagram and LinkedIn.