Meet a Roadrunner: Elizabeth Cook wants to make higher education attainable for others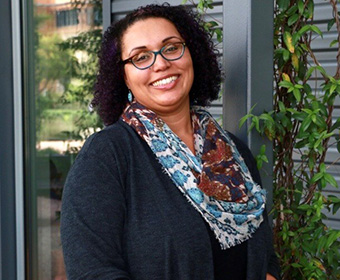 (March 22, 2017) -- Meet Elizabeth Cook. This UTSA doctoral student is the first recipient to ever receive the Gaye Theresa Johnson African American Studies Doctoral Fellowship, an award for advanced doctoral students pursuing research. The award is offered by the UTSA Consortium for Social Transformation and UTSA Office of the President.
Born in California and raised in a military family, Cook has lived and traveled all around the world. After moving nine times, she graduated from high school in Washington state and, due to her husband's military relocation, arrived in San Antonio in 2011.
"I grew up relatively poor. I had no concept of what college was supposed to be," said Cook, a first-generation college student. "During my undergraduate career, I didn't even know we needed books to attend class. I was truly a naive student."
Cook came to UTSA to pursue her doctoral degree in educational leadership after earning a bachelor's degree from Duke University and a Master's in Education from the University of Oklahoma. To support her doctoral research, she received the UTSA Department of Educational Leadership and Policy Studies' ELPS Doctoral Fellowship.
"I chose UTSA specifically because it was a Hispanic-serving university. I wanted a place that was vested in underrepresented minorities and non-traditional students."
The UTSA doctoral program has taught Cook more about higher education administration. In the classroom, she has been challenged to see the world in new ways. She also has studied inequality and has an insider perspective of how to affect change in higher education and create pathways for diverse groups of students.
During her time at UTSA, Cook worked with and taught in many different areas of the university, including the Consortium for Social Transformation. She was nominated by UTSA professor Theodorea R. Berry for the Gaye Theresa Johnson Fellowship.
Since receiving this fellowship, Cook has devoted her time to completing her dissertation, which focuses on African American women in graduate schools.
"It's great to be able to connect my years of experience in higher education administration and student affairs with my current work. I've been able to craft my five years of study into one laser-focused ideal," she said.
Cook is also spending significant time with Karla Broadus, director of the UTSA African American Studies program. Together, they are working with others across campus and in the community to help expand the program.
"I've been very fortunate to work with our students and help them understand the importance of African American Studies," Cook said. "These are the courses that are going to enrich you as a human being."
Over the years, Cook has worked extremely hard and has connected with people who understand her research in and outside of her department.
"The research I'm doing is different than the mainstream. The one thing that UTSA is very, very good at is working hard to make that vested effort to make positive change," said Cook. "UTSA is really trying to reach that next tier – that Tier One level."
Graduating this May with her doctoral degree in educational leadership, Cook's advice to other students who plan to pursue their doctoral degree is to branch out of their comfort zone.
"Be serious and focus on what you want out of a program. Be honest and ask questions about the courses and research, and connect with faculty that can help you along the way."
Cook is looking forward to her future and to creating a college classroom environment that's inclusive and supportive for all students.
"My personal ethos and mission during my professional career has been to seek out the students who are unsure about their time here," Cook said. "There have been so many people along the way who have been integral to my success. I want to be that person for others as a way of giving back. That's the impetus for me to get my Ph.D. from UTSA. I wanted to progress further but I also want to participate in the conversation at the table where leaders are making decisions that affect others."
-------------------------------
Do you know a Roadrunner who is achieving great things? Email us at social@utsa.edu so that we may consider your suggestion for our next installment of Meet a Roadrunner.
Connect with UTSA online at Facebook, Twitter, YouTube, Instagram and LinkedIn.