2017 UTSA Fiesta medal now on sale features iconic campus structure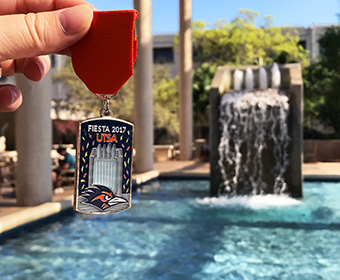 (March 23, 2017) -- The 2017 UTSA Fiesta medal is now on sale at Roadrunner Express on the UTSA Main Campus and at the Fiesta Store in downtown San Antonio. This year's design features the iconic UTSA Sombrilla Plaza fountain, colorful confetti and Rowdy the Roadrunner, symbolizing UTSA's vibrant campus life.
Located in the heart of the UTSA Main Campus, the Sombrilla is a popular meeting spot. Every day, Roadrunners can be found there studying, eating, socializing and taking selfies. According to legend, if UTSA students put their hands on the Sombrilla fountain wall during finals week, they will pass their final exams with flying colors.
Built in 1979, the Sombrilla fountain underwent extensive renovations in 2013 and became fully sustainable. It uses only reclaimed water from the air conditioning systems in neighboring buildings, keeping it operational year round with no strain on the water supply.
Billed as San Antonio's "party with a purpose," Fiesta honors the heroes of the Alamo and the Battle of San Jacinto with ten days of parades, carnivals, coronations, parties and food. This year's 126th Fiesta celebration runs April 20 through 30.
According to the Fiesta San Antonio Commission, medal collecting and trading is one of Fiesta's most popular traditions, dating back at least 50 years. Details regarding the origins of the tradition are fuzzy, but every year, more than 100 nonprofit organizations, including UTSA, sell and trade the festive medals for fundraising and awareness.
Fiesta-goers can purchase the UTSA Fiesta medal at Roadrunner Express and the Fiesta Store. Roadrunner Express is located on the UTSA Main Campus along the University Center Paseo near the UC Food Court. Store hours are 7:30 a.m. to 5:30 p.m., Monday through Thursday and 7:30 a.m. to 4:30 p.m. on Friday. The Fiesta Store is located at 2611 Broadway St. Store hours are 10 a.m. to 6 p.m., Monday through Saturday and 1 p.m. to 6 p.m. on Sunday.
Medals are $5.50 for individuals and $3.50 for UTSA departments, if bought at Roadrunner Express. UTSA Fiesta medals can be sent to the UTSA Downtown Campus departments via campus mail or picked up at the Main Campus. For off-campus purchases, medals can be mailed with an applicable shipping charge. For more information, email The University Center.
-------------------------------
Learn more about Fiesta San Antonio.
Connect with UTSA online at Facebook, Twitter, YouTube, Instagram and LinkedIn.