Meet a Roadrunner: David Garcia, Jr. '93 is the COO of Geekdom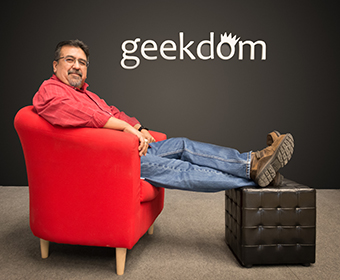 (April 5, 2017) -- Meet David Garcia, Jr. '93. As the chief operating officer of Geekdom, he's helping self-proclaimed "geeks" find each other and become entrepreneurs.
Born and raised in San Antonio, Garcia grew up on a small farm in the southwest part of the city. After graduating from high school in 1983, he took a few community college courses.
"I took my basic courses and never really got a good idea of what I wanted to do," Garcia said. "That led me to think I didn't need to go to college, so I just left and went straight into the workforce."
He worked at several different retail jobs over the next few years and began to realize that he had the mindset to be a manager. But he didn't have the degree or skillset to qualify him for the job. Not wanting to go back to community college, Garcia decided to seek out a top-tier education at UTSA.
"There were so many benefits to being a UTSA student," he said. "I was able to work and take classes at the same time, which enabled me to pay my way through school."
He also found the faculty to be supportive and helpful, willing to go above and beyond to help him in his studies.
"UTSA has always felt like a small town, even then," Garcia said. "Now, it's grown and reached new heights, but it still has that sense of community."
Having realized business was his true calling, Garcia majored in management, knowing it was a field of study that could apply to many different career paths. He graduated in 1993 with a bachelor's degree in management and immediately re-entered the workforce full-time.
One of the first jobs he acquired after graduation was managing a computer store, part of a large national chain. He hired a number of promising young people.
"Many of the people that worked under me there had the same kind of drive and ambition that I had at that age," Garcia said. "I tried to be a mentor and pass on my own values and what I had learned.
When the chain folded, the employees moved on, but Garcia stayed in touch with several of them. He accepted a position with Apple, gaining an admiration for the way Steve Jobs brought brilliant people together to create new technology.
Meanwhile, many of his former employees had gone on to work at Rackspace and became affiliated with Geekdom, a co-working space in downtown San Antonio that brings together aspiring tech entrepreneurs and fosters small business development.
At Geekdom, they sang Garcia's praises for his management skills. It wasn't long before he was approached to take on the role of COO.
"Throughout my journey, I've been all about seeing people succeed," he said. "I'm still a manager. I still want to see people grow and develop. At UTSA, I laid the foundation to make myself succeed. That was where it happened."
-------------------------------
Do you know a Roadrunner who is achieving great things? Email us at social@utsa.edu so that we may consider your suggestion for our next installment of Meet a Roadrunner.
Connect with UTSA online at Facebook, Twitter, YouTube, Instagram and LinkedIn.
Events
In honor of UTSA's 50th Anniversary in 2019, the university is hosting Roadrunner Days Spring Edition - two weeks of semester-launching activities built around our deeply held values of student success, student involvement, community service and fun!
Various locations, Main and Downtown Campuses
The UTSA Department of Physics and Astronomy invites everyone to its monthly lecture and stargazing event (weather permitting).
Flawn Building (FLN 2.02.02) and Curtis Vaughn Jr. Observatory, 4th floor of Flawn Building, Main Campus
All UTSA students, faculty, staff, alums & families are invited to march as a unified community. Register here: bit.ly/2TYbHbR. Shuttles will be provided from the Main and Downtown Campuses.  
Martin Luther King, Jr. Academy, 3501 MLK Dr., San Antonio
UTSA's John Nix invites the community to sing "Amazing Grace" and "We Shall Overcome" at 11 a.m. on Martin Luther King Jr. Day. The intent of this nationwide effort is to honor Dr. King's legacy and to spread a sense of community in the United States.    
Locations throughout the United States
Opening Reception got exhibit featuring artists Miguel Aragon, Aaron Coleman, Sandra Fernandez, Annalise Gratovich, Marco Hernandez, Kristen Powers Nowlin, & Patricia Villalobos Echeverria
Main Art Gallery, Arts Building (ART 2.03.04), Main Campus
Tracy Cowden, Roland K. Blumberg Endowed Professor in Music and chair of the UTSA Department of Music launches the UTSA 50th Anniversary Scholars Speaker Series with Music as Medicine: The Power and Influence of Music on our Health.
Radius Center, 106 Auditorium Cir. #120, San Antonio
UTSA African American Studies Program presents this series featuring Walter M. Kimbrough, president of Dillard University.
Student Union Retama Auditorium (SU 2.02.02), Main Campus)
The annual event features authentic foods, music, dance, martial arts, shopping, games and entertainment from China, to the Indian Sub-continent, and the island nations of the Pacific. The Festival features two stages, a martial arts demonstration area, children's hands on crafting area, anime activities, bonsai and ikebana displays, mahjong table and more.
UTSA Institute of Texan Cultures, Hemisfair Campus
---