Meet a Roadrunner: David Garcia, Jr. '93 is the COO of Geekdom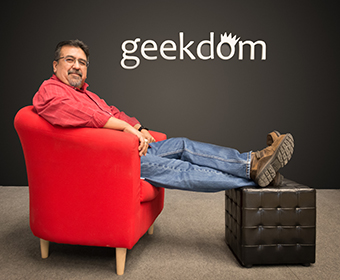 (April 5, 2017) -- Meet David Garcia, Jr. '93. As the chief operating officer of Geekdom, he's helping self-proclaimed "geeks" find each other and become entrepreneurs.
Born and raised in San Antonio, Garcia grew up on a small farm in the southwest part of the city. After graduating from high school in 1983, he took a few community college courses.
"I took my basic courses and never really got a good idea of what I wanted to do," Garcia said. "That led me to think I didn't need to go to college, so I just left and went straight into the workforce."
He worked at several different retail jobs over the next few years and began to realize that he had the mindset to be a manager. But he didn't have the degree or skillset to qualify him for the job. Not wanting to go back to community college, Garcia decided to seek out a top-tier education at UTSA.
"There were so many benefits to being a UTSA student," he said. "I was able to work and take classes at the same time, which enabled me to pay my way through school."
He also found the faculty to be supportive and helpful, willing to go above and beyond to help him in his studies.
"UTSA has always felt like a small town, even then," Garcia said. "Now, it's grown and reached new heights, but it still has that sense of community."
Having realized business was his true calling, Garcia majored in management, knowing it was a field of study that could apply to many different career paths. He graduated in 1993 with a bachelor's degree in management and immediately re-entered the workforce full-time.
One of the first jobs he acquired after graduation was managing a computer store, part of a large national chain. He hired a number of promising young people.
"Many of the people that worked under me there had the same kind of drive and ambition that I had at that age," Garcia said. "I tried to be a mentor and pass on my own values and what I had learned.
When the chain folded, the employees moved on, but Garcia stayed in touch with several of them. He accepted a position with Apple, gaining an admiration for the way Steve Jobs brought brilliant people together to create new technology.
Meanwhile, many of his former employees had gone on to work at Rackspace and became affiliated with Geekdom, a co-working space in downtown San Antonio that brings together aspiring tech entrepreneurs and fosters small business development.
At Geekdom, they sang Garcia's praises for his management skills. It wasn't long before he was approached to take on the role of COO.
"Throughout my journey, I've been all about seeing people succeed," he said. "I'm still a manager. I still want to see people grow and develop. At UTSA, I laid the foundation to make myself succeed. That was where it happened."
-------------------------------
Do you know a Roadrunner who is achieving great things? Email us at social@utsa.edu so that we may consider your suggestion for our next installment of Meet a Roadrunner.
Connect with UTSA online at Facebook, Twitter, YouTube, Instagram and LinkedIn.
Events
The events are a collaborative effort between student organizations, student led-groups, and campus departments.
Various locations, Main and Downtown Campuses
UTSA is a designated early voting site for the May 4 Joint, General and Special Election. Any registered Bexar County voter can skip the lines and cast a ballot at UTSA from Monday, April 22 to Tuesday, April 30.
H-E-B Student Union (HSU 1.002), Main Campus
Help our South Texas neighbors by supporting area charitable organizations. Your $6 includes 2 sausage wraps, chips and a drink and helps others less fortunate.
Sombrilla Plaza, Main Campus
The Campus Master Plan task force and Page consultants will share the initial draft of the master plan.
Student Union Retama Auditorium (SU 2.02.02), Main Campus
The Campus Master Plan task force and Page consultants will hold a series of meetings in late April and early May to share the initial draft of the master plan.
Buena Vista Street Building Aula Canaria (BVB 1.328), Downtown Campus
In this UTSA 50th anniversary speaker series, Roger Enriquez, UTSA associate professor of criminal justice, explores how immigration past and present helps us understand its future.
Casa Hernán, 411 Cevallos St., San Antonio
An evening of fine food and drink inspired by UTSA's renowned Mexican Cookbook Collection. Proceeds from the event will support UTSA's Mexican Cookbook Collection.
Hotel Emma, 136 E Grayson St., San Antonio
Grab a friend and sign up to bowl with fellow Roadrunners and raise money for scholarships.
University Bowl, 12332 I-10 #10, San Antonio
---