Roadrunners go green for Earth Week with eco-friendly activities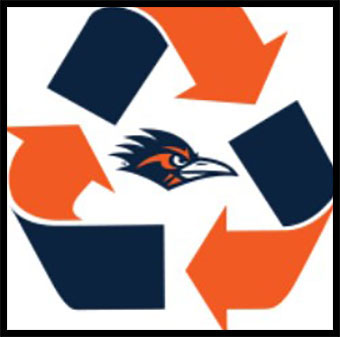 (April 19, 2017) -- The University of Texas at San Antonio (UTSA) Office of Sustainability is challenging Roadrunners to make some simple lifestyle changes that can make a big impact on the earth. Some examples include turning off the water while brushing teeth, double side print jobs, riding a bike or carpooling to work and turning off the television when it's not in use. The UTSA community is encouraged to get families and friends involved and make the actions go viral.
"Many of our students are passionate about and work hard to improve the environment," said Keith Muhlestein, director of the UTSA Office of Sustainability. "This month, we're encouraging all Roadrunners to adopt one new action every day with the goal of establishing Earth-friendly habits."
UTSA has a long-standing tradition of being eco-friendly. Recycling bins are spotted on every corner of campus, hydration stations encourage students to refill water bottles, and the iconic Sombrilla Fountain flows with reclaimed water from the UTSA air conditioning system. Most recently, UTSA students came together to build and grow a community garden on campus.
UTSA Earth Week events:
Science and the Planet Series: From Concern to Effective Action: Individuals and the Environment
Thursday, April 20, 6 p.m. to 7 p.m.
H-E-B University Center, Bexar Room (HUC 1.102), UTSA Main Campus
UTSA alum and Alamo Area Council of Governments (AACOG) Natural Resources Director Peter Bella will discuss climate policy and how to take action to improve the planet's health.
Surplus Property Block Party
Friday, April 21, 9 a.m. to 2 p.m., Surplus Property Warehouse, Center for the Archeological Research (CAR), UTSA West Campus
Wear green and join the block party. The first 50 walk-in visitors will receive a free Bur Oak seedling. Employees can check out the inventory of surplus property items available for reuse and redistribution on campus.
Earth Day Open House
Friday, April 21, 10 a.m. to 1 p.m., UTSA Office of Environmental Health, Safety and Risk Management (EHSRM), UTSA West Campus
Everyone is invited to the grand opening of the new EHSRM Modular Building. Be there at 10:30 for the tree planting ceremony to replace the live oak removed during construction. Enjoy refreshments and Earth Day giveaways and learn about UTSA recycling.
Guests are also encouraged to stop by the Purchasing office next door on West Campus to learn how to buy earth-friendly products.
The UTSA Sustainability program promotes conservation initiatives and moves the university toward a more sustainable environment. It aims to meet the needs of present users while ensuring that future generations can meet their needs. Students, staff, and faculty are focused on a wide range of programs to improve the environmental and energy performance of our campuses and of our communities.
-------------------------------
Learn more about UTSA Earth Week.
Learn more about UTSA Sustainability.
Learn more about the UTSA Surplus Property.
Connect with UTSA online at Facebook, Twitter, Vimeo and Instagram.