Roadrunners encouraged to share why they love UTSA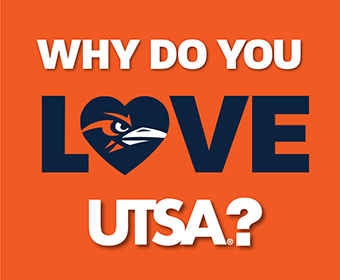 (April 10, 2017) -- Why do you love UTSA? There's a lot to love – the classes, the professors, the laboratories, the programs, the campus. You have until midnight to share it by getting involved in this month's I Love UTSA Campaign.
Launched and coordinated by the UTSA Office of Annual Giving, The I Love UTSA Campaign provides the community with an opportunity to support UTSA's top-tier academic, research and outreach programs.
Eight colleges are participating this year: the College of Architecture, Construction and Planning; College of Business; College of Education and Human Development; College of Engineering; College of Liberal and Fine Arts; College of Public Policy; College of Sciences; and the Honors College. UTSA Student Affairs and UTSA Libraries are additions this year.
"Student success is the face of this campaign," said Heather Green, UTSA director of Annual Giving. "We want UTSA students, faculty, staff and alumni sharing what they love about UTSA with the hope that it inspires them to give back."
UTSA students, faculty, staff, alumni and the community are encouraged to go to the UTSA Giving Facebook, Twitter and Instagram channels and share what they love about UTSA using the hashtags #ILoveUTSA and #UTSA. They can show their support by giving on UTSA's crowdfunding website, Launch UTSA.
UTSA fundraising priorities range from raising support for student scholarships, fellowships and leadership programs to raising funds for laboratory equipment and community outreach programs.
"These funds allow the university to address emerging opportunities and use the money where it is needed most to help students succeed," said Green.
UTSA is ranked among the top 400 universities in the world and among the top 100 in the nation, according to Times Higher Education.
-------------------------------
To give to UTSA, visit fund.utsa.edu.
For more information about the I Love UTSA Campaign or fundraising at UTSA, contact Heather Green at 210-458-5155 or heather.green@utsa.edu.
Connect with UTSA online at Facebook, Twitter, YouTube, Instagram and LinkedIn.
Events
The events are a collaborative effort between student organizations, student led-groups, and campus departments.
Various locations, Main and Downtown Campuses
UTSA is a designated early voting site for the May 4 Joint, General and Special Election. Any registered Bexar County voter can skip the lines and cast a ballot at UTSA from Monday, April 22 to Tuesday, April 30.
H-E-B Student Union (HSU 1.002), Main Campus
Help our South Texas neighbors by supporting area charitable organizations. Your $6 includes 2 sausage wraps, chips and a drink and helps others less fortunate.
Sombrilla Plaza, Main Campus
The Campus Master Plan task force and Page consultants will share the initial draft of the master plan.
Student Union Retama Auditorium (SU 2.02.02), Main Campus
The Campus Master Plan task force and Page consultants will hold a series of meetings in late April and early May to share the initial draft of the master plan.
Buena Vista Street Building Aula Canaria (BVB 1.328), Downtown Campus
In this UTSA 50th anniversary speaker series, Roger Enriquez, UTSA associate professor of criminal justice, explores how immigration past and present helps us understand its future.
Casa Hernán, 411 Cevallos St., San Antonio
An evening of fine food and drink inspired by UTSA's renowned Mexican Cookbook Collection. Proceeds from the event will support UTSA's Mexican Cookbook Collection.
Hotel Emma, 136 E Grayson St., San Antonio
Grab a friend and sign up to bowl with fellow Roadrunners and raise money for scholarships.
University Bowl, 12332 I-10 #10, San Antonio
---