UTSA launches first fully online degree program in cybersecurity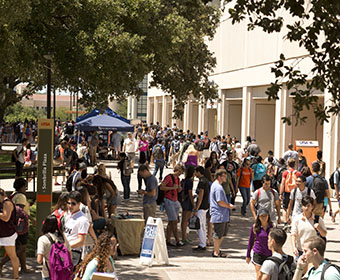 (April 4, 2017) -- In the fall of 2017, The University of Texas at San Antonio (UTSA) will begin offering its first fully online degree program, which will allow students to earn a B.B.A. in cybersecurity through the internet.
The Ponemon Institute has previously ranked UTSA's overall cybersecurity programs No. 1 in the nation, based on a survey of IT executives, and the university's academic and research programs are recognized for excellence by the National Security Agency (NSA) and the Department of Homeland Security (DHS).
"The College of Business is proud to support UTSA's online initiatives by offering our cybersecurity degree program in this innovative format," said Wm. Gerard Sanders, dean and Bodenstedt Chair of the UTSA College of Business. "It will allow us to create a professional pathway for even more students into this burgeoning job market."
Students in the online degree program will have access to the same vast cybersecurity expertise that UTSA students currently experience on-campus. Students will also earn badges and micro-certificates along the way, providing additional relevance to the job market.
"Cybersecurity is an industry where well-trained professionals with relevant experience are high in-demand," said Yoris Au, chair of the UTSA Department of Information Systems and Cyber Security. "This program will also give them the business expertise they need to succeed in their professions."
Au noted that graduates of UTSA cybersecurity programs go on to work at security firms as well as government agencies like the NSA, CIA and FBI and for major business corporations such as USAA, Rackspace and H-E-B.
"Now students from all over the United States will be able to access these educational opportunities, even if they don't live near San Antonio," he said.
Partnering with the University of Texas System's innovation department, the new online degree program is supported by Total Educational Experience (TEx), a web-based learner platform that guides students on personalized journeys throughout their lifetime.
"More and more industries are hiring applicants with cyber security skills and knowledge," said Au. "By making our B.B.A. in Cyber Security available online, we will be able to prepare more students and connect them with these in-demand jobs."
UTSA is ranked among the top 400 universities in the world and among the top 100 in the nation, according to Times Higher Education.
-------------------------------
Learn more about the online B.B.A. in Cyber Security.
Learn more about cybersecurity at UTSA.
Learn more about the UTSA Department of Information Systems and Cyber Security.
Connect with UTSA online at Facebook, Twitter, YouTube, Instagram and LinkedIn.
Events
The events are a collaborative effort between student organizations, student led-groups, and campus departments.
Various locations, Main and Downtown Campuses
The UTSA and San Antonio communities are invited to see the Roadrunners in action during this free game that marks the end of the spring workouts season.
Dub Farris Athletic Complex, 8400 North Loop 1604 W), San Antonio
The UTSA Alumni Association and the San Antonio Parks Foundation will co-host the official Fiesta event. The outdoor event is family-friendly, with live music, lawn games, a free mechanical bull ride, photo fun, local food, fresh sips, local art and cowboy merch. Admission is free for those who RSVP online, however there will be a $10 entry charge at the gates on the day of the event, as capacity allows.   
UTSA Park West Athletics Complex
UTSA is a designated early voting site for the May 4 Joint, General and Special Election. Any registered Bexar County voter can skip the lines and cast a ballot at UTSA from Monday, April 22 to Tuesday, April 30.
H-E-B Student Union Bexar Room (HSU 1.102), Main Campus
The Campus Master Plan task force and Page consultants will share the initial draft of the master plan.
Student Union Retama Auditorium (SU 2.02.02), Main Campus
The Campus Master Plan task force and Page consultants will hold a series of meetings in late April and early May to share the initial draft of the master plan.
Buena Vista Street Building Aula Canaria (BVB 1.328), Downtown Campus
In this UTSA 50th anniversary speaker series, Roger Enriquez, UTSA associate professor of criminal justice, explores how immigration past and present helps us understand its future.
Casa Hernán, 411 Cevallos St., San Antonio
Grab a friend and sign up to bowl with fellow Roadrunners and raise money for scholarships.
University Bowl, 12332 I-10 #10, San Antonio
---