Roadrunners lead effort to bring Rowdy Cannon to UTSA events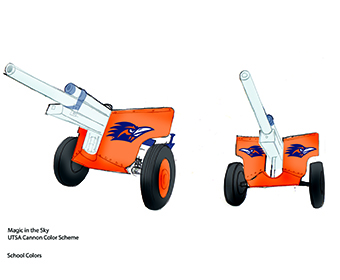 Brett Davidoff, senior entrepreneurship major and an active member of the UTSA Student Government Association, is leading the charge to bring a loud, proud Rowdy Cannon to Roadrunner Nation. Hear why in his own words.
(April 28, 2017) -- The cannon will be used at UTSA home football games and other university events. Our university resides in San Antonio, which we all know to be Military City USA. In honor of that, we want to inaugurate our very own Rowdy Cannon. Operated by Army ROTC Cadets, it will be fired from the sidelines every time we score a touchdown or a field goal. Additionally, it can be fired at other official university events such as Fiesta UTSA and Midnight Light.
It takes all of us in order to turn this vision into a reality. A donation to the Rowdy Cannon will be an investment in a prominent, long-lasting tradition for the UTSA community. We believe having a cannon will further establish our place in Division I football. It will also enhance the UTSA Football experience, further claiming our place as a top-tier university.
The money raised in this campaign will go to the construction of the cannon, a custom-built trailer and the costs of firing the cannon. Funding requirements come in at $20,000. The funds will come from crowdfunding.
For the past year and a half, Student Government leaders have been working to make this happen. We now need all hands on deck - current Roadrunners, alumni, friends and family - to promote and fundraise for this campaign.
Thank you very much for your support. Every dollar counts toward achieving this loud and rowdy goal. You will go down in history for helping bring a great, new tradition to UTSA. Thank you very much and Go 'Runners!
-------------------------------
Watch the Rowdy Cannon Campaign giving video.
Connect with UTSA online at Facebook, Twitter, YouTube, Instagram and LinkedIn.
Events
Jenny Hsieh, professor and Semmes Foundation Chair in Cell Biology and director, UTSA Brain Health Consortium provides an engaging look into the world of gene editing.
South Texas Research Facility, 8403 Floyd Curl Dr., San Antonio
UTSA will offer science, engineering, architecture, sports, music, writing and language and culture camps for kids, teens and adults.  Register now.
Various locations, Main and Downtown Campuses
Future Roadrunners and families prepare for everything they need to know before the fall semester.
Various locations, Main and Downtown Campuses
Join us for cupcakes and lots of Roadrunner spirit as we celebrate the day UTSA was created by the Texas Legislature.
Sombrilla, Main Campus and Frio Street Commons, Downtown Campus
Join us as we celebrate this momentoud day in UTSA history by paying homage to the moment Governor Preston Smith signed the legislation creating UTSA exactly 50 years ago on June 5, 1969.
The Alamo, 300 Alamo Plaza, San Antonio
The State of Hand Stitch is a survey of eleven women artists in Texas working with thread and needle at a time when embroidery is increasingly recognized as a medium of choice by serious artists. Opening reception is June 5 at 5pm. Exhibit continues through Aug. 9.
Arts Building, Main Art Gallery (ART 2.03.04), Main Campus
For the 48th year, the ITC brings culture to life with music, dance, artisanship, food and hands-on experiences that connect Texans to their roots.
UTSA Institute of Texan Cultures, Hemisfair Campus
The fifth annual SAMHS and Universities Research Forum (SURF) is a regional event that highlights the latest research and discoveries of trainees, faculty, staff and students working to improve health outcomes.
H-E-B Student Union Ballroom (HSU 1.106),Main Campus
---