'Runners take their next steps to success May 13 and May 14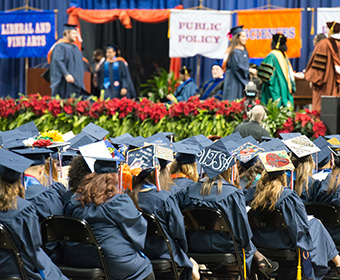 (April 24, 2017) -- Thousands of Roadrunners will reach a milestone in their educational journey this month as they walk the stage at one of three UTSA spring Commencement ceremonies. The ceremonies will take place Saturday, May 13 and Sunday, May 14 at the Alamodome.
More than 3,500 undergraduate students, 880 master's students and 55 doctoral students are eligible to attend the ceremonies. While they share a common bond as members of the Roadrunner family, they each have a unique story of academic achievement.
One outstanding graduate is UTSA psychology major Miguel Gonzalez. Now in his mid-30s, the non-traditional Honors College student worked many jobs before dedicating to his education and completing his degree at UTSA. Next, the Terry Scholar will pursue his master's at UTSA.
"What propelled me the most at UTSA are the opportunities I received through the Terry Transfer Scholarship, conducting research, and through the Honors College," said Gonzalez. "These opportunities helped me keep my focus on my academics."
Jasmine King will graduate from UTSA with her bachelor's in biomedical engineering. She transferred to UTSA for its academic opportunities. King says she was also attracted to the university's diversity.
"My professors are very involved with their students. They've embraced diversity from the first day I stepped foot on campus. That's how it will be in the real world and with professional careers," King said.
The National Science Foundation Graduate Research Fellow will build on her UTSA education this fall when she pursues her Ph.D. at the joint UC Berkeley/UC San Francisco Graduate Program in Bioengineering.
First-generation finance major Freddie Cuellar has already landed a job at Vantage Bank Texas once he graduates.
"The professors in the UTSA College of Business not only focused on education and assuring that we learned the materials, but I also learned professionalism, leadership, networking and public speaking," Cuellar said. "I had opportunities to step out of my comfort zone and challenge myself and better prepare myself for a career in banking."
Hear more UTSA student success stories on the UTSA Commencement website.
Commencement Ceremony Information
UTSA's first spring Commencement ceremony begins at 10 a.m., May 13 and honors graduates from the College of Liberal and Fine Arts, the College of Public Policy and University College. U.S Senator José Menéndez will deliver the keynote address.
Students who are earning a degree from the College of Architecture, Construction and Planning, College of Business and College of Engineering will walk the stage on May 13 at 4 p.m. The keynote speaker for the afternoon ceremony is U.S. Representative Will Hurd. The entrepreneur has long been an advocate of UTSA's cybersecurity program.
The third ceremony, scheduled at 2 p.m. on May 14, will recognize graduates from the College of Education and Human Development and the College of Sciences. Juliet Garcia, senior advisor to the Chancellor of the University of Texas System for community, national and global engagement, will address graduates in this last ceremony.
All graduates are advised to arrive two hours prior to their ceremony for check-in, located on the ground level of the Alamodome.
For family members who can't attend Commencement, they can watch all three ceremonies on the livestream.
UTSA graduates, family members and friends are also encouraged to share their stories on social media using #UTSA and #UTSAgrad17.
UTSA is ranked among the top 400 universities in the world and among the top 100 in the nation, according to Times Higher Education.
-------------------------------
Learn more about UTSA Commencement.
Connect with UTSA online at Facebook, Twitter, YouTube, Instagram and LinkedIn.
Events
In honor of UTSA's 50th Anniversary in 2019, the university is hosting Roadrunner Days Spring Edition - two weeks of semester-launching activities built around our deeply held values of student success, student involvement, community service and fun!
Various locations, Main and Downtown Campuses
Tracy Cowden, Roland K. Blumberg Endowed Professor in Music and chair of the UTSA Department of Music launches the UTSA 50th Anniversary Scholars Speaker Series with Music as Medicine: The Power and Influence of Music on our Health.
Radius Center, 411 E. Martin, San Antonio
UTSA African American Studies Program presents this series featuring Walter M. Kimbrough, president of Dillard University.
Student Union Retama Auditorium (SU 2.02.02), Main Campus)
Join fellow Runners to walk for 10 minutes on the Main Campus. The event reminds us of the importance of exercise, diet and healthy habits in protecting our hearts.
Outside the North Paseo Building, Main Campus
The annual event features authentic foods, music, dance, martial arts, shopping, games and entertainment from China, to the Indian Sub-continent, and the island nations of the Pacific. The Festival features two stages, a martial arts demonstration area, children's hands on crafting area, anime activities, bonsai and ikebana displays, mahjong table and more.
UTSA Institute of Texan Cultures, Hemisfair Campus
UTSA Libraries will host Bryan Gervais, UTSA assistant professor in the Dept. of Political Science & Geography, for his presentation "Political Incivility in the Digital Age." Pizza will be provided to UTSA students while supplies last.
John Peace Library Assembly Room (JPL 4.04.22)
Level up your career with a graduate business degree from the UTSA College of Business. Join us for this Open House to learn which of our 13 degree programs is right for you.
Business Building (BB 2.06.04), Main Campus
Basura Bash is a one-day, all-volunteer event to clean the San Antonio Watershed. For the past 24 years volunteers have cleaned area waterways. Join the UTSA community for the 25th Annual Basura Bash Waterways Cleanup.
Maverick Creek, near Brackenridge Ave. Lot 5, Main Campus
---