Meet a Roadrunner: Blair Salt is shedding light on an ancient culture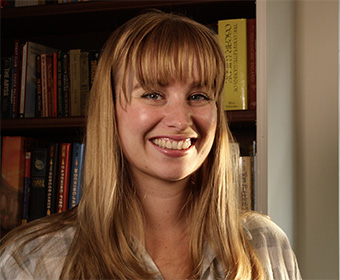 (May 17, 2017) -- Meet Blair Salt '17. She's digging into ancient cultures after earning her master's degree at UTSA.
A San Antonio native, Salt discovered her love for prehistoric art as a high school student in her first art history class. She initially believed she wanted to be an archaeologist, which led her to earn her undergraduate degree in that area from Texas State University. While she enjoyed her studies, she eventually realized she wasn't quite doing what she loved.
"I went to field school in Belize," Salt said. "It was fun, but it was a lot of difficult, manual labor. At that point, I wasn't sure if I could sweat and dig in the jungle every summer."
After realizing she needed to explore more career possibilities, Salt nabbed an internship with the San Antonio Museum of Art and spent her last undergraduate semester working there. Feeling that she'd found her true calling working in a museum, she completed her degree and began pursuing jobs in that field, without success.
"I had a few jobs writing proposals for various companies," she said. "I found out fairly quickly that museums wouldn't hire me to do the kind of job I wanted to do unless I had a master's degree."
Already aware of UTSA's top-tier anthropology program, Salt sought out faculty in that department to explore the possibility of graduate school. After speaking with them about her interest in ancient art, she was steered toward Juliet Wiersema, assistant professor of art history.
"Dr. Wiersema's expertise is in that crossover between archaeology and art history," Salt said. "After speaking with her, I knew I wanted to earn my master's in art history at UTSA."
After enrolling in the program, she found immense support from her professors, which was especially welcome as she was balancing a full-time job with graduate school.
"It was difficult, but I was able to make it work," Salt said. "UTSA really sets you up for success, no matter your situation."
Eventually, she became a full-time student to take advantage of UTSA's vibrant campus life and internship opportunities, as well as a study abroad trip to Peru that Wiersema suggested Salt take part in.
It was in Peru that Salt fell in love with an archaeological site known as Cerro Sechín, which possibly dates to as early as 2100 BC and was built by a largely mysterious ancient culture. Her graduate thesis is focused on a stone frieze covered in images of human bodies, adorned figures, internal organs and disembodied heads.
"The more I looked at it, the more I realized that it raised so many questions," she said. "I thought, 'How are people not talking about this?'"
What's especially exciting to Salt is that the site might be part of the earliest state in Peru, but it's not more widely understood in her field, mainly because much of the information is difficult to access and is available only in Spanish.
"What I'm working on is miniscule compared to what could be done," she said. "Above all, I want to bring awareness to this site and set the stage for future scholarship."
Salt, who graduated earlier this month, hopes to work in a San Antonio museum.
"I don't know what I would have done if I didn't have the support of my professors," she said. "They want you to succeed in your classes, but they also want to set you up for a bright future. It's been a very moving experience."
-------------------------------
Do you know a Roadrunner who is achieving great things? Email us at social@utsa.edu so that we may consider your suggestion for our next installment of Meet a Roadrunner.
Connect with UTSA online at Facebook, Twitter, YouTube, Instagram and LinkedIn.
Events
In honor of UTSA's 50th Anniversary in 2019, the university is hosting Roadrunner Days Spring Edition - two weeks of semester-launching activities built around our deeply held values of student success, student involvement, community service and fun!
Various locations, Main and Downtown Campuses
The UTSA Department of Physics and Astronomy invites everyone to its monthly lecture and stargazing event (weather permitting).
Flawn Building (FLN 2.02.02) and Curtis Vaughn Jr. Observatory, 4th floor of Flawn Building, Main Campus
All UTSA students, faculty, staff, alums & families are invited to march as a unified community. Register here: bit.ly/2TYbHbR. Shuttles will be provided from the Main and Downtown Campuses.  
Martin Luther King, Jr. Academy, 3501 MLK Dr., San Antonio
UTSA's John Nix invites the community to sing "Amazing Grace" and "We Shall Overcome" at 11 a.m. on Martin Luther King Jr. Day. The intent of this nationwide effort is to honor Dr. King's legacy and to spread a sense of community in the United States.    
Locations throughout the United States
Opening Reception got exhibit featuring artists Miguel Aragon, Aaron Coleman, Sandra Fernandez, Annalise Gratovich, Marco Hernandez, Kristen Powers Nowlin, & Patricia Villalobos Echeverria
Main Art Gallery, Arts Building (ART 2.03.04), Main Campus
Tracy Cowden, Roland K. Blumberg Endowed Professor in Music and chair of the UTSA Department of Music launches the UTSA 50th Anniversary Scholars Speaker Series with Music as Medicine: The Power and Influence of Music on our Health.
Radius Center, 106 Auditorium Cir. #120, San Antonio
UTSA African American Studies Program presents this series featuring Walter M. Kimbrough, president of Dillard University.
Student Union Retama Auditorium (SU 2.02.02), Main Campus)
The annual event features authentic foods, music, dance, martial arts, shopping, games and entertainment from China, to the Indian Sub-continent, and the island nations of the Pacific. The Festival features two stages, a martial arts demonstration area, children's hands on crafting area, anime activities, bonsai and ikebana displays, mahjong table and more.
UTSA Institute of Texan Cultures, Hemisfair Campus
---