First-generation Roadrunner helps other UTSA first-gens unite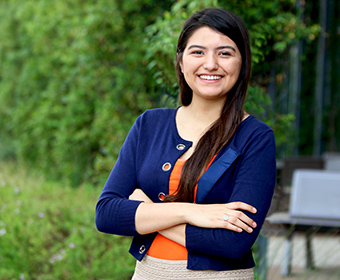 (May 31, 2017) -- Carla Juarez grew up in a small Texas town, and although neither one of her parents attended college she was a star student. With the second highest grade-point-average in her high school, Juarez expected to breeze through college.
Yet there she was, 100 miles away from home, guiding herself through the unknowns of college life, the admissions process and how to pay for tuition. When you're a first-generation student, everything is just a little harder to navigate.
"My parents didn't finish high school, they didn't even finish elementary school," said Juarez, a junior majoring in accounting at The University of Texas at San Antonio (UTSA). "They had no idea how to help me in high school, so I did it on my own. I applied to college on my own. I looked for scholarships on my own. I know they couldn't help me as much, but they were as supportive as they could be and were there for me."
With more than 11,000 first-gen undergraduates at UTSA, Carla isn't alone. She joined and became vice-president of First to Go and Graduate (F2G&G), a student organization which has 64 members.
"First-gens don't always have someone who knows what's going on," she said. "I want to help them get involved on campus, and I want to be there for them when they have questions."
Recently the student organization, along with several campus offices, hosted First-Gen Fest to raise awareness about the experience of students who are the first in their families to complete a four-year degree. Some 100 students, faculty and staff showed up to the event, displaying their "I am First-Gen" t-shirts, buttons and signs. Participants included interim President of UTSA, Pedro Reyes, who is also a first-generation student.
The event was a success, said Carla, who smiles when she spots a student still wearing the shirt.
"It's like there's an immediate connection, I can relate with them," she said.
In between classes, working with F2G&G and helping with the Student Government Association, Carla tries to visit home at least once a month. Her father, a stone worker at a quarry, and her mother, a custodian at an elementary school, have worked hard to try to alleviate the cost of tuition for Juarez.
With college tuition and expenses on the rise, Carla works part-time on campus and relies heavily on scholarship support. So far she's managed to make her way through college debt-free thanks in part to donor support.
"First-gen students are very determined," said Juarez, who will be interning at PricewaterhouseCoopers in January. "We don't take our education for granted and are grateful to have the opportunities that our parents didn't have."
-------------------------------
Learn more about UTSA's first-generation family.
Learn more about First to Go and Graduate at UTSA.
Connect with UTSA online at Facebook, Twitter, YouTube, Instagram and LinkedIn.
Events
The events are a collaborative effort between student organizations, student led-groups, and campus departments.
Various locations, Main and Downtown Campuses
UTSA is a designated early voting site for the May 4 Joint, General and Special Election. Any registered Bexar County voter can skip the lines and cast a ballot at UTSA from Monday, April 22 to Tuesday, April 30.
H-E-B Student Union (HSU 1.002), Main Campus
In this UTSA 50th anniversary speaker series, Roger Enriquez, UTSA associate professor of criminal justice, explores how immigration past and present helps us understand its future.
Casa Hernán, 411 Cevallos St., San Antonio
Discussion will explore the new Master of Arts in Global Affairs offered through the Department of Political Science and Geography at UTSA. Guest speakers will include representatives from local and federal government, military, and civil society.
H-E-B Student Union Travis Room (HSU 2.202), Main Campus
An evening of fine food and drink inspired by UTSA's renowned Mexican Cookbook Collection. Proceeds from the event will support UTSA's Mexican Cookbook Collection.
Hotel Emma, 136 E Grayson St., San Antonio
Grab a friend and sign up to bowl with fellow Roadrunners and raise money for scholarships.
University Bowl, 12332 I-10 #10, San Antonio
The UTSA Department of Art and Art History present the work of emerging artists who are graduating from UTSA. Work ranges from traditional methods and materials, interdisciplinary and new media. Themes range from social and cultural critique to investigations that are challenging and exquisite explorations in creative form and image.  
Arts Building, Main Art Gallery (ART 2.03.04), Main Campus
UTSA's first spring Commencement ceremony begins at 10 a.m., May 18 and honors graduates from the College of Liberal and Fine Arts and University College.
Alamodome, 100 Montana St., San Antonio
---