First-generation Roadrunner helps other UTSA first-gens unite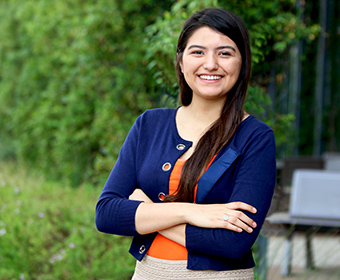 (May 31, 2017) -- Carla Juarez grew up in a small Texas town, and although neither one of her parents attended college she was a star student. With the second highest grade-point-average in her high school, Juarez expected to breeze through college.
Yet there she was, 100 miles away from home, guiding herself through the unknowns of college life, the admissions process and how to pay for tuition. When you're a first-generation student, everything is just a little harder to navigate.
"My parents didn't finish high school, they didn't even finish elementary school," said Juarez, a junior majoring in accounting at The University of Texas at San Antonio (UTSA). "They had no idea how to help me in high school, so I did it on my own. I applied to college on my own. I looked for scholarships on my own. I know they couldn't help me as much, but they were as supportive as they could be and were there for me."
With more than 11,000 first-gen undergraduates at UTSA, Carla isn't alone. She joined and became vice-president of First to Go and Graduate (F2G&G), a student organization which has 64 members.
"First-gens don't always have someone who knows what's going on," she said. "I want to help them get involved on campus, and I want to be there for them when they have questions."
Recently the student organization, along with several campus offices, hosted First-Gen Fest to raise awareness about the experience of students who are the first in their families to complete a four-year degree. Some 100 students, faculty and staff showed up to the event, displaying their "I am First-Gen" t-shirts, buttons and signs. Participants included interim President of UTSA, Pedro Reyes, who is also a first-generation student.
The event was a success, said Carla, who smiles when she spots a student still wearing the shirt.
"It's like there's an immediate connection, I can relate with them," she said.
In between classes, working with F2G&G and helping with the Student Government Association, Carla tries to visit home at least once a month. Her father, a stone worker at a quarry, and her mother, a custodian at an elementary school, have worked hard to try to alleviate the cost of tuition for Juarez.
With college tuition and expenses on the rise, Carla works part-time on campus and relies heavily on scholarship support. So far she's managed to make her way through college debt-free thanks in part to donor support.
"First-gen students are very determined," said Juarez, who will be interning at PricewaterhouseCoopers in January. "We don't take our education for granted and are grateful to have the opportunities that our parents didn't have."
-------------------------------
Learn more about UTSA's first-generation family.
Learn more about First to Go and Graduate at UTSA.
Connect with UTSA online at Facebook, Twitter, YouTube, Instagram and LinkedIn.
Events
In honor of UTSA's 50th Anniversary in 2019, the university is hosting Roadrunner Days Spring Edition - two weeks of semester-launching activities built around our deeply held values of student success, student involvement, community service and fun!
Various locations, Main and Downtown Campuses
All UTSA students, faculty, staff, alums & families are invited to march as a unified community. Register here: bit.ly/2TYbHbR. Shuttles will be provided from the Main and Downtown Campuses.  
Martin Luther King, Jr. Academy, 3501 MLK Dr., San Antonio
UTSA's John Nix invites the community to sing "Amazing Grace" and "We Shall Overcome" at 11 a.m. on Martin Luther King Jr. Day. The intent of this nationwide effort is to honor Dr. King's legacy and to spread a sense of community in the United States.    
Locations throughout the United States
Opening Reception got exhibit featuring artists Miguel Aragon, Aaron Coleman, Sandra Fernandez, Annalise Gratovich, Marco Hernandez, Kristen Powers Nowlin, & Patricia Villalobos Echeverria
Main Art Gallery, Arts Building (ART 2.03.04), Main Campus
Tracy Cowden, Roland K. Blumberg Endowed Professor in Music and chair of the UTSA Department of Music launches the UTSA 50th Anniversary Scholars Speaker Series with Music as Medicine: The Power and Influence of Music on our Health.
Radius Center, 106 Auditorium Cir. #120, San Antonio
UTSA African American Studies Program presents this series featuring Walter M. Kimbrough, president of Dillard University.
Student Union Retama Auditorium (SU 2.02.02), Main Campus)
Join fellow Runners to walk for 10 minutes on the Main Campus. The event reminds us of the importance of exercise, diet and healthy habits in protecting our hearts.
Outside the North Paseo Building, Main Campus
The annual event features authentic foods, music, dance, martial arts, shopping, games and entertainment from China, to the Indian Sub-continent, and the island nations of the Pacific. The Festival features two stages, a martial arts demonstration area, children's hands on crafting area, anime activities, bonsai and ikebana displays, mahjong table and more.
UTSA Institute of Texan Cultures, Hemisfair Campus
---