UTSA researcher examines how city governments use Facebook to engage citizens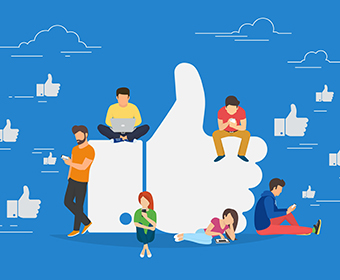 (May 18, 2017) -- Social media can help boost citizens' voluntary participation and involvement in local government, according to Chris Reddick, chair of the Department of Public Administration at The University of Texas at San Antonio (UTSA).
In the age of social media, an increasing number of city governments and their departments are turning toward using services such as Facebook to share news, information, and foster participation (which Reddick calls "e-participation") with its citizens. The City of San Antonio is no different, with nearly a dozen major departments and offices managing their own Facebook accounts.
"E-participation can serve to encourage two-way communication between government and citizens," said Reddick, an expert on e-government. "In double-loop environments, which allow for open feedback from the citizens, local governments can use social media to educate citizens, legitimize government decisions, open up the policy-making process to direct input and provide learning opportunities."
In a recent study, published in Government Information Quarterly, Reddick and his colleagues, Akemi Takeoka Chatfield of the University of Wollongong, Australia, and Adeboyega Ojo of the National University of Ireland Galway, Ireland, studied two city departments' Facebook pages to compare and contrast their approaches and outcomes.
The researchers assessed the Facebook pages of the City of San Antonio Solid Waste Management Department and its counterpart in the City of Austin, the Resource and Recovery Department. Austin was chosen for comparison with San Antonio because it won an award at the government Social Media Conference and Expo for its use of social media and citizen engagement.
The researchers created a special software program to sift through and compare the engagement posts on each agency's Facebook page. In 2013, San Antonio's population was 1,409,000, and, at the time the study was conducted, its Solid Waste Management page had 2,166 likes. Austin, on the other hand, had a population of 885,400 but its Resource and Recovery Department page had 2,624 likes. Additionally, they found that Austin tended to have more ongoing conversations related to infrastructure, more direct engagement and more overall expressed satisfaction among its users.
Reddick and his colleagues said that the Austin agency used more posts that encouraged citizens to share their priorities and preferences related to their services than the San Antonio agency. San Antonio's page rarely if ever solicited citizen input. Instead, it used its social media to "broadcast" information and only responded to comments to provide clarification.
"Cities have different priorities when using their resources, of course," said Reddick, who added San Antonio's resources might be more focused on efficiently sharing information than gathering insight. "However, in terms of sheer engagement, two-way environments are more effective at creating a 'virtual town hall' environment in which citizens actively. That's something we saw again and again when comparing the pages of two cities' agencies."
The study focused on one specific area of city government's use of social media, but its methods could be used to examine the effects of social media engagement on a larger scale and among several departments.
Reddick, a long-time researcher into electronic government, believes that new approaches across government could encourage more dialogue and create ongoing, 24/7 collaborative opportunities between citizens and their government.
UTSA is ranked among the top 400 universities in the world and among the top 100 in the nation, according to Times Higher Education.
-------------------------------
Learn more about the UTSA College of Public Policy.
Connect with UTSA online at Facebook, Twitter, YouTube, Instagram and LinkedIn.
Events
Through the month of February, the UTSA community is invited to join student organizations, colleges and departments at events that commemorate the African American people, places and events that have paved the way for racial equality.
Various locations
Representatives from companies across the nation will discuss potential full-time job and/or internship opportunities available to all majors.
Convocation Center, Main Campus
The UTSA Department of English hosts the Brackenridge Distinguished Visiting Lecturer, Lawrence Venuti. Venuti is a professor of English at Temple University.
Business Building University Room (BB 2.06.04), Main Campus
The student organization MuTe (Music Technology) will be hosting a recital that's open to the public.
Arts Building Recital Hall (ART 2.03.02), Main Campus
The UTSA Department of English presents this year's Brackenridge Distinguished Visiting Lecturer, Lawrence Venuti. Venuti is a professor of English at Temple University.
Business Building University Room (BB 2.06.04), Main Campus
Diploma Dash is a fast, certified 5k course for runners and a scenic route around Main Campus for walkers, strollers and dogs! There are individual and team prizes. Benefits UTSA students through the UTSA Alumni Association scholarship program.
UTSA Main Campus
Enjoy music, food and socializing during this fundraising event benefiting the San Antonio Symphony League for the Youth Concert Series and the ITC for its ongoing educational mission.
UTSA Institute of Texan Cultures, Hemisfair Campus
UTSA Libraries will host Robert Rico, M.P.A., Department of Criminal Justice, for his presentation "Restorative Justice: A Relational Approach to Civic Discourse." Pizza will be provided to students while supplies last.
Buena Vista Street Building (BVB 2.309), Downtown Campus
---