New chip under development at UTSA extends battery life of electronics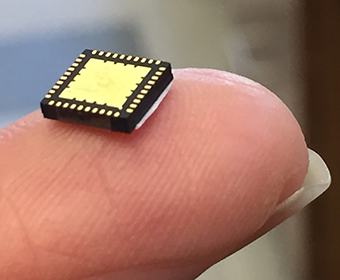 (May 1, 2017) -- Ruyan Guo, Robert E. Clarke Endowed Professor of Electrical and Computer Engineering at The University of Texas at San Antonio (UTSA), has received a $50,000 I-Corps grant from the National Science Foundation to commercialize a chip that can make lower power electronics, like cell phones, work more efficiently.
Guo's team developed the technology, which is about the size of a pin's head, with UTSA researcher Shuza Binzaid in the UTSA Multifunctional Electronic Materials and Devices Research Laboratory alongside graduate student Avadhood Herlekar.
"The purpose of this grant is to better identify the commercial opportunities for technology created at universities," Guo said.
Guo and Binzaid are currently working with marketplace experts, as well as UTSA technology and IP management specialist Neal A. Guentzel, to understand the needs of consumers so they can determine which industry their chip is best suited for. It's an odd problem to have, since the device is applicable to several different uses, from every day electronics to medical apparatuses.
"This chip can be used with anything that runs on a battery," said Binzaid. "It manages power so that the device can last longer."
Cell phone users in desperate need of a charge, for example, put their devices on low power mode and reduce its regular functions to extend the battery life of their phones. The chip can keep a phone working at top functionality with much less power. Moreover, it facilitates the use of smaller batteries, since the object itself is so small.
The chip also tackles another common annoyance for electronics users: how hot devices get when they're being used for several minutes.
"The heat is a result of a lot of power being used," Guo said. "It's a nuisance, but with our device there is less power consumption, which means the heat will be much less of an issue."
Guo noted that as the "internet of things" becomes more integrated into the average person's daily life, battery power will continue to become a valuable resource. Beyond lower power devices such as cell phones, the chip could be used in fire sensors, fitness monitors and even medical apparatuses.
"We hope to make a significant leap forward in defibrillators and pacemakers," she said. "Invasive surgeries to replace medical devices that are running out of power could become much less frequent."
For now, Guo's team is focusing on developing the chip for customized sensors, with more possibilities on the horizon.
UTSA is ranked among the top 400 universities in the world and among the top 100 in the nation, according to Times Higher Education.
-------------------------------
Learn more about the UTSA Department of Electrical and Computer Engineering.
Connect with UTSA online at Facebook, Twitter, YouTube, Instagram and LinkedIn.
Events
Through the month of February, the UTSA community is invited to join student organizations, colleges and departments at events that commemorate the African American people, places and events that have paved the way for racial equality.
Various locations
The UTSA Department of English hosts the Brackenridge Distinguished Visiting Lecturer, Lawrence Venuti. Venuti is a professor of English at Temple University.
Business Building University Room (BB 2.06.04), Main Campus
The student organization MuTe (Music Technology) will be hosting a recital that's open to the public.
Arts Building Recital Hall (ART 2.03.02), Main Campus
The UTSA Department of English presents this year's Brackenridge Distinguished Visiting Lecturer, Lawrence Venuti. Venuti is a professor of English at Temple University.
Business Building University Room (BB 2.06.04), Main Campus
Diploma Dash is a fast, certified 5k course for runners and a scenic route around Main Campus for walkers, strollers and dogs! There are individual and team prizes. Benefits UTSA students through the UTSA Alumni Association scholarship program.
UTSA Main Campus
Enjoy music, food and socializing during this fundraising event benefiting the San Antonio Symphony League for the Youth Concert Series and the ITC for its ongoing educational mission.
UTSA Institute of Texan Cultures, Hemisfair Campus
UTSA Libraries will host Robert Rico, M.P.A., Department of Criminal Justice, for his presentation "Restorative Justice: A Relational Approach to Civic Discourse." Pizza will be provided to students while supplies last.
Buena Vista Street Building (BVB 2.309), Downtown Campus
Spend an evening stirring your curiosity during these monthly talks featuring some of UTSA's most renowned faculty, and learn how the latest research in their fields applies to our daily lives. This month's speaker is Francine Romero, UTSA associate professor and associate dean of the College of Public Policy.
The Historic Guadalupe Theatre, 1301 Guadalupe St., San Antonio
---