UTSA graduate student makes a statement about immigration and the American dream with clothing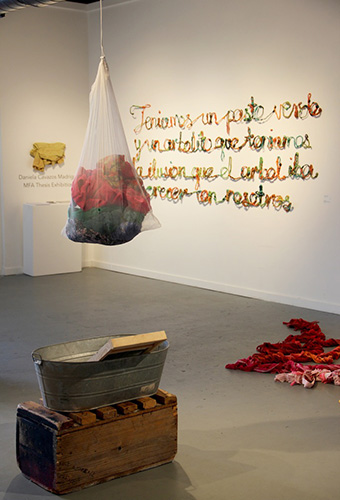 (May 10, 2017) -- Daniela Cavazos Madrigal, a graduate student in the top-tier Master's of Fine Arts program at The University of Texas at San Antonio (UTSA), is using clothes to share stories about the American dream and immigrant experience in the United States.
Madrigal, a Laredo native, uses clothes that have been thrown away or recycled. She gets the clothes from "ropas" or large warehouses in Laredo that sell clothing by the pound.
"You go in and see mountains of clothes, and it made me think, 'Where did they come from and who wore them?'" said Madrigal. "I gave those materials new life by repurposing them and transforming them to honor the traditions of women's work."
Madrigal said quotes or verses stitched on jackets and shirts come from the accounts of her undocumented immigrant friend. Some of the text remains in Spanish, while some is translated.
She said she hopes her exhibition inspires those who see it to have a productive dialogue about immigration.
"The political climate that exists after the election and the deportations going on are issues I wanted to address through these verses on unconventional materials," said Madrigal.
The MFA thesis exhibition, "I came from wet", is open to the public at UTSA Terminal 136 in the Blue Star Arts Complex through May 20.
This spring, Madrigal will complete her graduate degree, with a concentration in painting and drawing, and hopes to continue highlighting issues facing the Latino community with her work. She said she already has other exhibitions lined up in San Antonio and Austin.
Madrigal said the opportunity to showcase her work during several exhibitions at UTSA and San Antonio and learning from top-tier faculty, many of who are professional working artists, have helped her become a better artist.
"Christie Blizard, an assistant professor of art at UTSA, is very active in the art community. She encouraged me to step out of my comfort zone and I was able to produce better work because of her instruction," said Madrigal.
The UTSA Master's of Fine Arts program is accredited by the National Association of Schools of Art and Design. Specializations are offered in painting/drawing, printmaking, photography, new media, sculpture and ceramics, taught by faculty members who are practicing artists.
The department hosts a number of visiting artists, curators and critics each semester who are invited to participate in studio visits. The visit give UTSA graduate students a chance to network and identify opportunities to showcase their work in San Antonio and other large cities across the nation.
-------------------------------
Learn more about the MFA Thesis Exhibition.
Learn more about the UTSA Department of Art & Art History.
Connect with UTSA online at Facebook, Twitter, YouTube, Instagram and LinkedIn.
Events
Through the month of February, the UTSA community is invited to join student organizations, colleges and departments at events that commemorate the African American people, places and events that have paved the way for racial equality.
Various locations
Diploma Dash is a fast, certified 5k course for runners and a scenic route around Main Campus for walkers, strollers and dogs! There are individual and team prizes. Benefits UTSA students through the UTSA Alumni Association scholarship program.
UTSA Main Campus
Enjoy music, food and socializing during this fundraising event benefiting the San Antonio Symphony League for the Youth Concert Series and the ITC for its ongoing educational mission.
UTSA Institute of Texan Cultures, Hemisfair Campus
UTSA Libraries will host Robert Rico, M.P.A., Department of Criminal Justice, for his presentation "Restorative Justice: A Relational Approach to Civic Discourse." Pizza will be provided to students while supplies last.
Buena Vista Street Building (BVB 2.309), Downtown Campus
Spend an evening stirring your curiosity during these monthly talks featuring some of UTSA's most renowned faculty, and learn how the latest research in their fields applies to our daily lives. This month's speaker is Francine Romero, UTSA associate professor and associate dean of the College of Public Policy.
The Historic Guadalupe Theatre, 1301 Guadalupe St., San Antonio
Meet with 60+ representatives from Texas and out-of-state schools to get information on becoming a competitive health professions applicant and information about the application and transition process.
Student Union Denman Ballroom (SU 2.01.28), Main Campus
UTSA master's of fine arts student Lauren Riojas-Fitzpatrick showcases her thesis through an art exhibit.
Terminal 136, 136 Blue Star, San Antonio
Hundreds of students, faculty, staff and alumni will roll up their sleeves to volunteer at nearly 20 service agencies throughout San Antonio.
Convocation Center, Main Campus and service projects throughout San Antonio
---