Art exhibition curated by UTSA alumna will attract art lovers new and old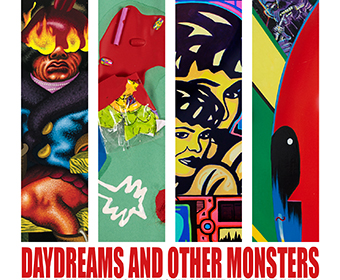 (May 31, 2017) -- It's an exhibition that shows off the work of two established artists and two emerging ones, including a UTSA alumna. The upcoming exhibition Daydreams and other Monsters, has been a labor of love for curator and UTSA alumna Alana Coates '12.
"This is a museum-level show that was two years in the making," said Coates, who received her UTSA master's degree in art history along with a graduate certificate in nonprofit administration and leadership in 2012. Coates is now the associate director at Ruiz-Healy Art, a contemporary art gallery in San Antonio and New York.
Coates says the exhibit, which will be hosted at the UTSA Main Campus, brings together artists from different generations who appreciate and are inspired by internationally acclaimed artist Peter Saul.
Saul was an art professor at the University of Texas at Austin and had his work displayed years ago at a gallery in the Blue Star Arts Complex in San Antonio.
Coates says Saul made his mark on the art scene in San Antonio and inspired several artists both locally and around the world. Local art collector, Joe Diaz, is loaning his collection of Saul's artwork for the exhibition.
"Expect the unexpected. There will be 'lowbrow' imagery, critiques of popular culture and conflicts with inner-self that are presented with wild and crazy colors," said Coates.
Artist John Hernandez, who saw Saul's work when it was exhibited in San Antonio, is participating in the exhibition. Hernandez, a San Antonio native, felt a connection because he found Saul's work to have a similar style to his own work.
Other artists who felt that connection include Louie Chavez and Megan Solis '16.
Chavez is a multidisciplinary artist who has worked in performance painting, sculpture and light installations. He has been commissioned for mural projects by businesses and organizations across Texas.
Megan Solis earned her bachelor's degree with a concentration in painting from UTSA last year. She is a multimedia artist with experience in easel, mural and performance painting as well as animation, fashion and sculpture. Solis' work has been on display in San Antonio, Houston and Finland.
"I have been working toward this show for about 10 months. I have 17 completely new pieces that I've made," said Solis. "I made small films for the show, and they are much more avant-garde than I'm used to. I definitely stepped out of my comfort zone for this show."
Solis says visitors can expect to see similarities between all of the works displayed at the UTSA exhibition.
"We are all different ages and have different takes on the world that we are living in," said Solis. "You can tell that we are influenced by the same types of art, film and similar tastes. That all comes out in our art."
"The younger artists will be using Internet memes and highlight dating culture. That is something the younger crowd might relate to and pick up on," added Coates.
Daydreams and other Monsters will have an opening reception on Wednesday, June 7, from 6 until 8 p.m. An artist talk with Solis and Chavez will be held at noon on Monday, July 17.
The exhibition runs from June 7 through August 4 at the UTSA Main Art Gallery on the Main Campus.
UTSA's exhibition spaces on the Main and Downtown campuses offer a variety of programs to serve undergraduate, graduate students and the entire San Antonio community. UTSA faculty, students and alumni impact the national and international art scene through exhibitions, publications and other projects.
-------------------------------
Learn more about Daydreams and other Monsters.
Learn more about the UTSA Department of Art and Art History.
Learn more about the UTSA College of Liberal and Fine Arts.
Connect with UTSA online at Facebook, Twitter, YouTube, Instagram and LinkedIn.
Events
In honor of UTSA's 50th Anniversary in 2019, the university is hosting Roadrunner Days Spring Edition - two weeks of semester-launching activities built around our deeply held values of student success, student involvement, community service and fun!
Various locations, Main and Downtown Campuses
The UTSA Department of Physics and Astronomy invites everyone to its monthly lecture and stargazing event (weather permitting).
Flawn Building (FLN 2.02.02) and Curtis Vaughn Jr. Observatory, 4th floor of Flawn Building, Main Campus
All UTSA students, faculty, staff, alums & families are invited to march as a unified community. Register here: bit.ly/2TYbHbR. Shuttles will be provided from the Main and Downtown Campuses.  
Martin Luther King, Jr. Academy, 3501 MLK Dr., San Antonio
UTSA's John Nix invites the community to sing "Amazing Grace" and "We Shall Overcome" at 11 a.m. on Martin Luther King Jr. Day. The intent of this nationwide effort is to honor Dr. King's legacy and to spread a sense of community in the United States.    
Locations throughout the United States
Opening Reception got exhibit featuring artists Miguel Aragon, Aaron Coleman, Sandra Fernandez, Annalise Gratovich, Marco Hernandez, Kristen Powers Nowlin, & Patricia Villalobos Echeverria
Main Art Gallery, Arts Building (ART 2.03.04), Main Campus
Tracy Cowden, Roland K. Blumberg Endowed Professor in Music and chair of the UTSA Department of Music launches the UTSA 50th Anniversary Scholars Speaker Series with Music as Medicine: The Power and Influence of Music on our Health.
Radius Center, 106 Auditorium Cir. #120, San Antonio
UTSA African American Studies Program presents this series featuring Walter M. Kimbrough, president of Dillard University.
Student Union Retama Auditorium (SU 2.02.02), Main Campus)
The annual event features authentic foods, music, dance, martial arts, shopping, games and entertainment from China, to the Indian Sub-continent, and the island nations of the Pacific. The Festival features two stages, a martial arts demonstration area, children's hands on crafting area, anime activities, bonsai and ikebana displays, mahjong table and more.
UTSA Institute of Texan Cultures, Hemisfair Campus
---