Roadrunners checklist for Commencement Day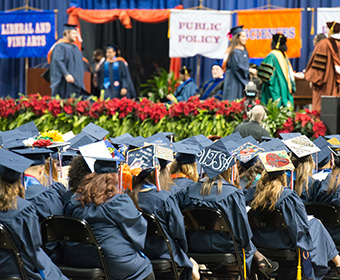 (May 9, 2017) -- The countdown is on for thousands of Roadrunners who have accomplished a monumental milestone in their educational journey. This week they walk the stage at one of three UTSA spring Commencement ceremonies. The ceremonies will take place Saturday, May 13 and Sunday, May 14 at the Alamodome.
More than 3,500 undergraduate students, 880 master's students and 55 doctoral students are eligible to attend the ceremonies.
Seven things all UTSA grads need to know about Commencement:
Arrive two hours before the ceremony. Follow the signs to check-in.
At check-in, graduates will pick up their name card, fill out the photo information and line up.
Leave purses and bags with family. They're not allowed at check-in.
During the ceremony, all names will be called.
The ceremony will last 2—2.5 hours.
Stay seated throughout the ceremony.
After the ceremony, meet family and friends outside.
Commencement Ceremony Information
UTSA's first spring Commencement ceremony begins at 10 a.m., May 13 and honors graduates from the College of Liberal and Fine Arts, the College of Public Policy and University College. U.S Senator José Menéndez will deliver the keynote address.
Students who are earning a degree from the College of Architecture, Construction and Planning, College of Business and College of Engineering will walk the stage on May 13 at 4 p.m. The keynote speaker for the afternoon ceremony is U.S. Representative Will Hurd. The entrepreneur has long been an advocate of UTSA's cybersecurity program.
The third ceremony, scheduled at 2 p.m. on May 14, will recognize graduates from the College of Education and Human Development and the College of Sciences. Juliet Garcia, senior advisor to the Chancellor of the University of Texas System for community, national and global engagement, will address graduates in this last ceremony.
For family members who can't attend Commencement, they can watch all three ceremonies on the livestream.
UTSA graduates, family members and friends are encouraged to share their stories on social media using #UTSA and #UTSAgrad17.
-------------------------------
Learn more about UTSA Commencement.
Connect with UTSA online at Facebook, Twitter, YouTube, Instagram and LinkedIn.
Events
The events are a collaborative effort between student organizations, student led-groups, and campus departments.
Various locations, Main and Downtown Campuses
UTSA is a designated early voting site for the May 4 Joint, General and Special Election. Any registered Bexar County voter can skip the lines and cast a ballot at UTSA from Monday, April 22 to Tuesday, April 30.
H-E-B Student Union (HSU 1.002), Main Campus
Help our South Texas neighbors by supporting area charitable organizations. Your $6 includes 2 sausage wraps, chips and a drink and helps others less fortunate.
Sombrilla Plaza, Main Campus
The Campus Master Plan task force and Page consultants will share the initial draft of the master plan.
Student Union Retama Auditorium (SU 2.02.02), Main Campus
The Campus Master Plan task force and Page consultants will hold a series of meetings in late April and early May to share the initial draft of the master plan.
Buena Vista Street Building Aula Canaria (BVB 1.328), Downtown Campus
In this UTSA 50th anniversary speaker series, Roger Enriquez, UTSA associate professor of criminal justice, explores how immigration past and present helps us understand its future.
Casa Hernán, 411 Cevallos St., San Antonio
An evening of fine food and drink inspired by UTSA's renowned Mexican Cookbook Collection. Proceeds from the event will support UTSA's Mexican Cookbook Collection.
Hotel Emma, 136 E Grayson St., San Antonio
Grab a friend and sign up to bowl with fellow Roadrunners and raise money for scholarships.
University Bowl, 12332 I-10 #10, San Antonio
---