Roadrunners checklist for Commencement Day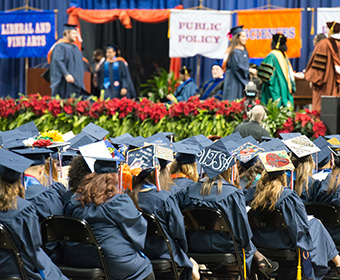 (May 9, 2017) -- The countdown is on for thousands of Roadrunners who have accomplished a monumental milestone in their educational journey. This week they walk the stage at one of three UTSA spring Commencement ceremonies. The ceremonies will take place Saturday, May 13 and Sunday, May 14 at the Alamodome.
More than 3,500 undergraduate students, 880 master's students and 55 doctoral students are eligible to attend the ceremonies.
Seven things all UTSA grads need to know about Commencement:
Arrive two hours before the ceremony. Follow the signs to check-in.
At check-in, graduates will pick up their name card, fill out the photo information and line up.
Leave purses and bags with family. They're not allowed at check-in.
During the ceremony, all names will be called.
The ceremony will last 2—2.5 hours.
Stay seated throughout the ceremony.
After the ceremony, meet family and friends outside.
Commencement Ceremony Information
UTSA's first spring Commencement ceremony begins at 10 a.m., May 13 and honors graduates from the College of Liberal and Fine Arts, the College of Public Policy and University College. U.S Senator José Menéndez will deliver the keynote address.
Students who are earning a degree from the College of Architecture, Construction and Planning, College of Business and College of Engineering will walk the stage on May 13 at 4 p.m. The keynote speaker for the afternoon ceremony is U.S. Representative Will Hurd. The entrepreneur has long been an advocate of UTSA's cybersecurity program.
The third ceremony, scheduled at 2 p.m. on May 14, will recognize graduates from the College of Education and Human Development and the College of Sciences. Juliet Garcia, senior advisor to the Chancellor of the University of Texas System for community, national and global engagement, will address graduates in this last ceremony.
For family members who can't attend Commencement, they can watch all three ceremonies on the livestream.
UTSA graduates, family members and friends are encouraged to share their stories on social media using #UTSA and #UTSAgrad17.
-------------------------------
Learn more about UTSA Commencement.
Connect with UTSA online at Facebook, Twitter, YouTube, Instagram and LinkedIn.
Events
In honor of UTSA's 50th Anniversary in 2019, the university is hosting Roadrunner Days Spring Edition - two weeks of semester-launching activities built around our deeply held values of student success, student involvement, community service and fun!
Various locations, Main and Downtown Campuses
The UTSA Department of Physics and Astronomy invites everyone to its monthly lecture and stargazing event (weather permitting).
Flawn Building (FLN 2.02.02) and Curtis Vaughn Jr. Observatory, 4th floor of Flawn Building, Main Campus
All UTSA students, faculty, staff, alums & families are invited to march as a unified community. Register here: bit.ly/2TYbHbR. Shuttles will be provided from the Main and Downtown Campuses.  
Martin Luther King, Jr. Academy, 3501 MLK Dr., San Antonio
UTSA's John Nix invites the community to sing "Amazing Grace" and "We Shall Overcome" at 11 a.m. on Martin Luther King Jr. Day. The intent of this nationwide effort is to honor Dr. King's legacy and to spread a sense of community in the United States.    
Locations throughout the United States
Opening Reception got exhibit featuring artists Miguel Aragon, Aaron Coleman, Sandra Fernandez, Annalise Gratovich, Marco Hernandez, Kristen Powers Nowlin, & Patricia Villalobos Echeverria
Main Art Gallery, Arts Building (ART 2.03.04), Main Campus
Tracy Cowden, Roland K. Blumberg Endowed Professor in Music and chair of the UTSA Department of Music launches the UTSA 50th Anniversary Scholars Speaker Series with Music as Medicine: The Power and Influence of Music on our Health.
Radius Center, 106 Auditorium Cir. #120, San Antonio
UTSA African American Studies Program presents this series featuring Walter M. Kimbrough, president of Dillard University.
Student Union Retama Auditorium (SU 2.02.02), Main Campus)
The annual event features authentic foods, music, dance, martial arts, shopping, games and entertainment from China, to the Indian Sub-continent, and the island nations of the Pacific. The Festival features two stages, a martial arts demonstration area, children's hands on crafting area, anime activities, bonsai and ikebana displays, mahjong table and more.
UTSA Institute of Texan Cultures, Hemisfair Campus
---