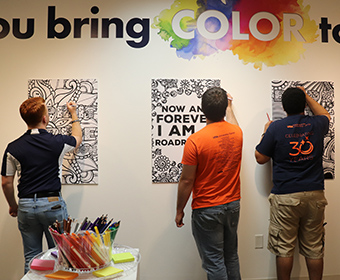 (June 6, 2017) -- The University Center (UC) has just opened a new interactive art exhibit for the UTSA community to experience.  This summer, Gallery 23 is taking a departure from the traditional art and photography shows normally displayed.  Instead, the Gallery will host a contemporary exhibit promoting diversity and creativity in students.  The exhibit welcomes guests by asking them to literally color on the Gallery walls and share their thoughts on UTSA, their goals and any struggles they've overcome. 
When guests enter the Gallery, they will find a stand filled with markers, colored pencils and post-it notes.  Oversized lettering printed on the wall reads "You bring color to UTSA."  Instructions are provided on the back wall directing guests to color UTSA-themed panels mounted to the walls, or share their thoughts on a number of topics by writing out a post-it note and adding it to a frame on the wall.  Camille Williams, a UTSA senior majoring in community health, describes her excitement over the new exhibit.
"I love that the exhibit is really interactive and gives a chance for new and continuing students alike to leave a mark on the University Center." 
The goal behind the new exhibit is to bring more interest and involvement to Gallery 23 and UTSA.  Developing an interactive Gallery exhibit follows a trend from other leading universities to promote student involvement, engagement and creativity on campus.  Assistant Director of Programs at the University Center, Tabitha Smith, helped design the current exhibit. 
"This is an exhibit where students can feel a connection to the larger student body," Smith said.  "I like that students can share a piece of themselves with us in an open and welcoming place." 
The University Center hopes that the space will be utilized by students, and additionally serve as a collaborative space for faculty and staff. 
Gallery 23 is located on the first floor of UC North, by the Fiesta Dancer entrance.  All gallery exhibits are organized and facilitated by the University Center.  Gallery 23 typically offers two art shows per semester, with an emphasis on student artwork.  The current interactive Gallery 23 exhibit is open through August, 8 a.m. to 5 p.m., Monday through Friday.  For more information, contact UC Programs at 210-458-6948.