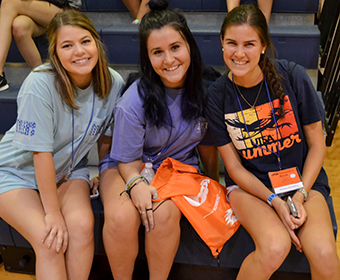 (June 5, 2017) – More than 5,000 incoming University of Texas at San Antonio (UTSA) students and their families will flock to Main Campus this summer to get #RowdyReady for the fall semester. 2017 Fall Orientation, which runs through August 2, helps the new Roadrunners transition to college life at UTSA.
Orientation is divided into nine, three-day sessions. Each week, hundreds of students and their families will experience staying in on-campus university housing.  Orientation Leaders will guide them every step of the way, as they attend information sessions and participate in traditions that introduce them to the UTSA community.
UTSA junior kinesiology major Jeffrey Hooks will work at Orientation for the second year, this time serving as a Team Leader.
"We are one of the first faces they see at UTSA," said Hooks. "Being involved in the lives of all the students that you encounter and knowing each one of them has great potential to change the world is something that I love."
The new students will learn about UTSA's top-tier academic and research programs, campus services and traditions. They'll go on campus tours, attend advising sessions and hear the many ways they can get involved on campus. Families will attend their own programs to help them adjust to having college-bound children.
"It's important for families to attend Orientation because there are specific sessions catered to their needs," said Isabella Beltri, who is starting her third year as an Orientation Leader. "Plus, the family side of Orientation makes it fun. There are also Spanish Orientation sessions for parents who primarily speak Spanish."
New this year, students and their family members will attend some of the information sessions together, such as the workshop that previews advising and one that offers tips on how to pay for college. Students will also get a Class Pass, an opportunity to have a genuine UTSA classroom experience in their academic area of interest. On advising day, students will have options to work out at Campus Rec, learn about Greek Life or complete a service project.
Orientation is also an opportunity to get to make new friends. The new 'Runners will attend the 2021 Block Party and participate in the Roadrunner Walk. The latter introduces new students to UTSA traditions.
"I hope students will walk away feeling motivated. I hope they realize that UTSA has a plethora of resources to succeed, whether it be through campus services, student organizations or even in the classroom," said Hooks. "I also hope that students will walk away with pride for their school. UTSA is growing and expanding rapidly, and has achieved many great things within the short time it has been established. That's something we should all be proud of."
Beltri echoes that excitement.
"I could go on for hours on how much I love UTSA, and I hope by the end of this experience that they learn to love the campus and culture as much as I do."