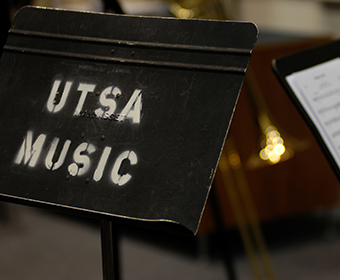 (June 13, 2017) -- Registration is now open for the UTSA String Project, a unique music program that serves more than 150 students throughout San Antonio each year by providing low-cost instruction in string instruments like guitar, cello, violin and viola.
This year's program, open to incoming third through eighth graders, runs from September 11 through April 27. Classes are offered from 4 to 6 p.m. on Mondays and Thursdays at the UTSA Downtown Campus and from 4 to 6 p.m. on Tuesdays and Fridays at the UTSA Main Campus. The cost for the year is $200 per student.
"We expanded the UTSA String Project to serve more children in San Antonio schools and have nearly 20 talented music majors teaching these students on both the UTSA Main and Downtown campuses," said Eugene Dowdy, founding director of the UTSA String Project and professor and director of orchestral studies in the top-tier UTSA Department of Music.
UTSA faculty, including Matthew Dunne and Kristen Pellegrino, supervise UTSA music students leading beginning, intermediate and advanced classes during the school year. In addition, Majah Spears Brown, orchestra director at Jefferson Middle School in the Northside Independent School District and graduate student at UTSA, shares her expertise as a community master teacher and helps supervise the classes.
"The String Project has been a wonderful opportunity at UTSA because I get to practice my teaching skills by working with the next generation of musicians," said Eric Garcia, a senior at UTSA and instructor for the String Project. "I tell my students that if it's difficult today, it will get easier tomorrow with practice."
The UTSA String Project is part of The National String Project Consortium, which was created in 1998 by the American String Teachers Association to promote string education in public schools. In addition to providing low-cost instruction to local youth, it provides music opportunities to students who are homeschooled and those who don't have access to music classes.
The UTSA program was originally funded through a national grant from FIPSE (The Funds for the Improvement of Post Secondary Education) and has received subsequent grants from NAMM (National Association of Music Merchants), the Genevieve and Ward Orsinger Foundation, the Ford Salute to Education, String Letter Publishing, Lockheed-Martin, and numerous other agencies. In 2008, the UTSA String Project began to receive funding from the UTSA's Charlotte Louise Dashiell and Lota M. Spell Endowment.
The UTSA Department of Music is accredited by the National Association of Schools of Music (NASM) and offers various programs, workshops and outreach initiatives coordinated by students, researchers and world-renowned faculty.