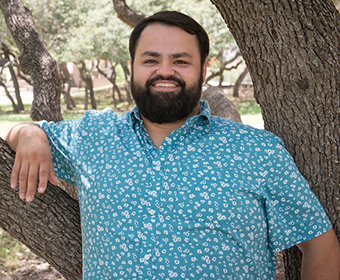 (July 12, 2017) -- Meet Julian Chavez '15. He's working to preserve the monarch butterfly as a researcher and educator in the UTSA environmental science program.
A native of the rural town of Abbott, Texas, Chavez had a passion for nature at a young age.
"I spent a lot of time outdoors," he said. "I grew up on a little ranch in the middle of nowhere. It was pretty isolated, but we had horses, cows, ducks and geese. I loved nature and spent as much time as I could playing outside and exploring."
While his siblings were excited by mainstream cartoons, Chavez loved nature shows on National Geographic and PBS, as well as Captain Planet.
"I definitely wanted to be a planeteer," he said. "I was interested in the environment, but it took me a while to find a place for that passion."
When it became time to earn his college degree, Chavez took classes at a community college near Abbott and eventually moved to San Antonio to earn his associate's degree in science at Northwest Vista College.
Looking to expand his horizons, he visited UTSA and was impressed by its close-knit, diverse campus community and its strong array of academic opportunities.
When he enrolled at UTSA in 2011 as an undergraduate, a friend made him aware of UTSA's burgeoning environmental science program.
"She was a part of this internship that just sounded incredible," he said. "She told me what she was studying and I was amazed because I never thought this was something you could do for a living. I realized this was what I should be doing."
As he began taking classes in environmental science, Chavez found himself inspired by the passion of the scientists around him.
"I loved the program," he said. "In my first class, I knew I was exactly where I was supposed to be. I felt like part of a family."
His faculty mentors helped him gain an internship at the U.S. Forest Service and at the Cibolo Nature Center, where he worked as an outdoor field guide. Additionally, he immersed himself in the UTSA student community, becoming a member of the Green Society, and volunteered for the San Antonio AIDS Foundation.
"There was just this part of me that wanted to contribute to the world around me and try to make it a better place in every way I could," Chavez said.
That mission expanded in his last year as an undergraduate at UTSA, when Janis Bush, professor and director of environmental science academic programs, received a $300,000 grant from the Texas Comptroller to study whether the monarch butterfly, Texas's state insect, is endangered.
"We did roadside surveys every 10 miles across Texas to assess the amount of milkweed in Texas," Chavez said. "The monarch butterfly uses the milkweed plant as baby food. They lay their eggs there and only eat it as caterpillars."
After completing his degree, Chavez accepted a position as a researcher in the Monarch Milkweed Project, continuing his efforts to protect the monarch butterfly and educate the community about nature and environmental science. Each Saturday, he visits schools and libraries to teach children and adults about the monarch butterfly. He also runs a UTSA summer camp for six to 12-year-olds, an experience that he hopes will inspire them to develop an appreciation for wildlife and wildlife conservation.
"The kids learn about insects and plants," Chavez said. "We teach them about their lifecycles and how they interact with us. It's a wonderful experience to pass on this knowledge and passion to a whole new generation."