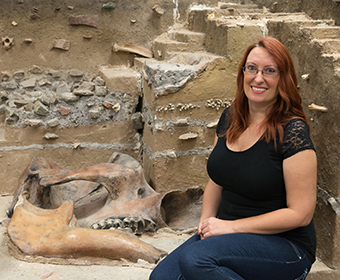 (July 19, 2017) -- Meet Whitney Lytle. In addition to her fieldwork and research, Lytle is educating the community about archaeology in her role as the Legacy Program Coordinator at the UTSA Center for Archaeological Research (CAR).
Lytle says her true love is archaeology, and she enjoys sharing her passion for it through archaeological outreach activities for children and adults.
Since she joined UTSA in Fall 2010, she has worked tirelessly to increase CAR's outreach with expanded community education opportunities.
Lytle gives tours of CAR, teaches students about archaeology in the Legacy Program's education room and even assists students with mock digs.
She's also a familiar face at local elementary, middle and high schools, where she gives presentations about Texas' cultural heritage, attends career days and leads archaeological clubs at schools. At many of these meetings, students get to examine and analyze artifacts representing different cultures, just as a professional archaeologist would.
"I teach younger students the importance of respecting and preserving the history of ancient cultures, lessons that can be applied to respecting their peers and everyone they meet," said Lytle.
Her job has allowed her to meet amazing young people over the years and Lytle said several of those students have gone on to study archaeology in college.
One of those students, Makayla Rodriguez, has fallen in love with archaeology and expanded her knowledge of the field with Lytle since 2011. The high school junior has attended Legacy camps, volunteered with CAR and will intern with Lytle next year.
When Lytle isn't with youth, she's studying archaeology. The UTSA staffer is currently a doctoral candidate working with Associate Professor Kathryn Brown in the UTSA Department of Anthropology on research that focuses on the Maya regions of Central America.
Her doctoral work has taken her to Belize, where she's done fieldwork at the site of Xunantunich to study the ritual space of ancestor shrines from the pre-classic to late classic period Maya. She says the lessons she's learned in the field have also enhanced her programming for youth.
With the unique perspective of a staff member and a student, Lytle says that she's proud of UTSA's commitment to community outreach.
"At CAR, we share our expertise about cultural heritage with the community so they can learn from the past to understand the present," said Lytle. "That dedication is unique to UTSA and is demonstrated through all the community outreach programs we provide."