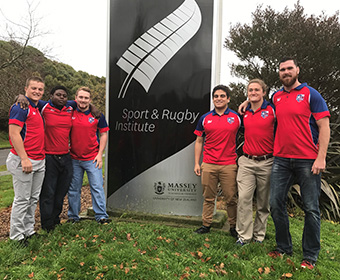 (Aug. 2, 2017) -- Six members of The University of Texas at San Antonio (UTSA) Rugby Club will have interesting stories to tell when they return to campus this fall. They spent two weeks this summer training and playing against some of the best rugby teams in the world in New Zealand. They learned about the rare opportunity when a coach from New Zealand came to Texas to select an all-star team to compete worldwide. 
"They held three major tryouts to find the best players in Texas, six of which ended up being UTSA players, the most chosen from any school," said William Wallace, UTSA Men's Rugby Club co-captain and president. 
Wallace said the all-star team met in various locations in Texas to practice before traveling to New Zealand in June.
Andrew Addison '17, who just graduated from UTSA with a business management degree, was the newest player on the team. He learned UTSA had a club rugby team when he met some of the players in his hometown of Corpus Christi.
"I've played everything from soccer, football, basketball and track but have never experienced the camaraderie that occurs in rugby," Addison said. "In rugby, you count on your teammates in some very real situations to not only support you but protect you."
While rugby is not as well known in the United States, it's one of the most popular sports in New Zealand. The UTSA players trained with professional athletes and competed against several top New Zealand teams. They also toured the entire north island and experienced the country's culture, including an interesting sleeping arrangement while in the town of Rotorua.
"The whole team stayed in a one-room Marae, which is traditionally the gathering place of each Maori tribe," Addison explained. "We were greeted with a pōwhiri, a traditional welcoming ceremony.
First-generation student Deon Ford, a sport, event and tourism management major, learned about the UTSA Rugby Club during Late Night at the Rec in his freshman year. Now entering his senior year at UTSA, he's grateful to have shared this opportunity with his Roadrunner teammates.
"The greatest part of UTSA Rugby Club is the bond we will always have as brothers," Ford said. "The passion and heart when you are not just playing for yourself but the team as well."
Houston native Jonathan Morin has been playing rugby since high school. The junior kinesiology major joined the UTSA team at Freshman Orientation.
"The experience in New Zealand opened my eyes to a culture that I would have never known if I wasn't a part of UTSA Rugby," Morin said.
Mechanical engineering honors student Sean Lynch says the UTSA Rugby Club helps him in the classroom.
"My experience on the rugby team helps me stay awake and energetic for my academic days," Lynch said. "It keeps me from falling into robotic habits every day, just going to class and back." 
The UTSA Rugby team is part of the Lonestar Conference, Texas' largest rugby conference.  Earlier this year, the team went undefeated in a qualifying tournament to earn a trip to the national championship in Colorado where they placed 12th.
Addison added, "The greatest feeling I had during my time with the club after all the hard work at practice and in the classroom, was to put on my UTSA jersey with my brothers to represent our university on the field."