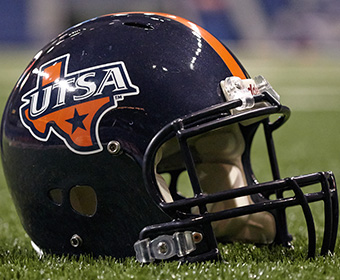 (Sept. 6, 2017) -- For the second straight season, the UTSA Athletics Department has partnered with Santikos Entertainment in an effort to bring an unmatched experience in San Antonio for fans unable to attend road football games. Santikos will host watch parties at the Silverado 16, located at 11505 West Loop 1604 North, for all away contests.
"We are excited to partner with UTSA Athletics once again and bring the excitement of UTSA football to the big screen at Santikos Silverado theatre," David Holmes, CEO of Santikos Entertainment, said. "We love our hometown team and we want to support them when they are playing on the road. We continue to strive to be entertainment leaders in San Antonio and show we're so much more than a movie theatre."
The Santikos Silverado 16 will serve as official watch party hosts for UTSA football road games at Baylor (7 p.m./Sept. 9), Texas State (Sept. 23), North Texas (5:30 p.m./Oct. 14), UTEP (7 p.m./Oct. 28), FIU (6 p.m./Nov. 4) and Louisiana Tech (Nov. 25). This will provide a unique experience of watching games on the big screen in a movie theater. Admission is free and seats are provided on a first-come, first-served basis. Food and beverages will be sold on site.