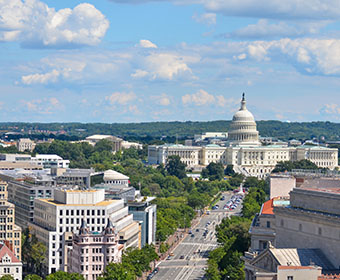 (Oct. 25, 2017) – UTSA President Taylor Eighmy and other UT System institution presidents are participating in a forum in Washington, D.C. today to spotlight the vital role that academia plays in addressing the nation's defense and national security challenges.
The "What does Texas Think? A UT in DC Dialogue with the Defense Community" brings together higher education, government and industry leaders from the intelligence, health and biosecurity sectors. President Eighmy will join the presidents of UT-Dallas, UT-Tyler and UT-Permian Basin on a panel about the importance of defense research.
Lisa Firmin, associate provost for veteran and military affairs at UTSA, is joining Eighmy at the forum in Washington, D.C. The retired Air Force Colonel is participating on a panel regarding workforce needs.
UTSA specializes in government and industry cyber preparedness, applied network and information systems security, information security management and strategy, and secure software and hardware design and engineering.
UTSA is home to four research centers and institutes focused on information assurance and cyber defense: the Institute for Cyber Security, the Center for Infrastructure Assurance and Security, the Center for Education and Research in Information and Infrastructure Security and the Open Cloud Institute. In those centers and institutes, UTSA researchers in business, science and engineering are combatting global security challenges to protect individuals, industry, government and the military.
Yesterday, UTSA announced the receipt of a five-year, $5 million grant to foster education and research to help secure the cloud while acting as a pipeline to create well-trained cybersecurity professionals. The Center for Security and Privacy Enhanced Cloud Computing (C-SPECC) will encourage high school student to pursue cybersecurity careers while keeping their teachers updated on the dynamic field of cybersecurity. Additionally, UTSA students and faculty in the center will conduct research at the intersecurity of cybersecurity and cloud computing to help secure the cloud for government, industry and the military.
The nation's top cybersecurity program, UTSA is making meaningful contributions to train cybersecurity professionals to meet the public and private sectors' workforce needs. Alumni of UTSA have secured jobs with industry, government and military employers such as Amazon, Microsoft, Rackspace, USAA, Raytheon, Booz Allen, the National Security Agency and the U.S. Army.
UTSA is ranked among the top four universities in the nation under 50 years old, according to Times Higher Education.