(Oct. 19, 2017) -- Road construction to improve vehicle and pedestrian routes around The University of Texas at San Antonio (UTSA) Downtown Campus has resulted in the relocation of several bus stops in the area. This change is expected to be in effect through at least the fall semester.
UTSA Campus Services is offering temporary shuttle service between the Downtown Campus and the alternate bus stops, Monday through Thursday from 7:30 a.m. to 10 p.m. and Friday 7:30 a.m. to 3 p.m. The shuttles will drop students off on Buena Vista St. near N. Pecos St. at the northeast corner of the Downtown Campus.
To assist the campus community in safely navigating the area, students are encouraged to take pedestrian routes to and from the temporary bus stops located at Milam Park and at the S. Santa Rosa and W. Nueva intersection.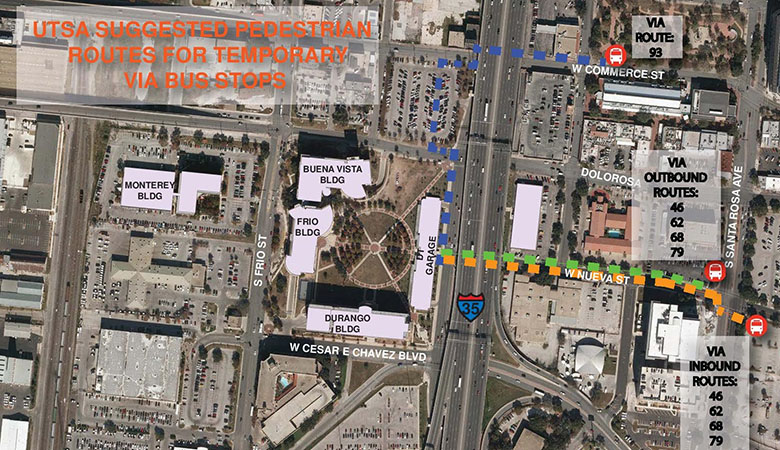 UTSA Police are providing additional patrols around the temporary bus stops and the Downtown Campus, weekdays from 4 p.m. to 11 p.m. Students may request an escort from an officer.
The City of San Antonio has also closed the intersection at S. Frio St. and W. César E. Chávez Blvd. as part of the ongoing street improvement project. The intersection is expected to reopen in early November.