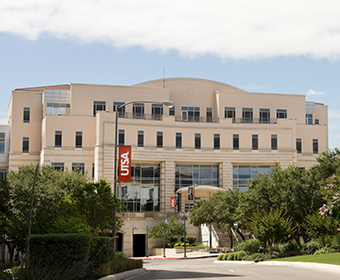 (Oct. 19, 2017) -- UTSA President Taylor Eighmy today announced the first of five initiatives he will launch this fall to support a vision for UTSA as San Antonio's university of the future. The President's Initiative on Student Success will take a student-centric approach to dramatically improving the university's retention and graduation rates.
"It is no secret that student persistence is one of our most critical issues, and one that cannot be solved solely by attending to the needs of our enrolled students," said Eighmy in an email sent today to the university community. "We must look at how UTSA can partner with the City of San Antonio to strengthen college preparedness of children in our local school districts. Likewise, it is imperative that our graduates are ready to enter the workforce with as little debt as possible and find the prosperity and professional satisfaction they deserve after earning their degree. Student success is integral to this notion of 'cradle to career' education."
To fast-track this high priority initiative, Eighmy has established a 25-member Student Success Task Force and charged the group with developing an integrated plan that considers the K-12 continuum through recruitment, enrollment, academic progress, career development and placement. The Student Success Initiative will be chaired by Associate Vice Provost for Strategic Initiatives in Academic Affairs Rhonda Gonzales.
The Student Success Task Force will build on the priorities and work of the university's Coordinated and Linked Approaches to Student Success (CLASS) initiative, led by Interim Provost Mauli Agrawal. Last year, UTSA's four-year graduation rate increased by four percent overall, and by seven percent when omitting students in the Coordinated Admission Program (CAP) with UT-Austin.
To assist the task force, UTSA has hired EAB, a highly respected firm specializing in identifying analytics-driven best practices for supporting, retaining and graduating students. Together, the task force and EAB will examine some of the best practices of model research-intensive, Hispanic-Serving Institutions such as U.C. Irvine and Arizona State University. They are expected to deliver their final report in January 2018.
In today's email, Eighmy also shared his intention to make additional announcements in the days to come related to strategic enrollment, the university's finance and budget model, tuition and fees, and weighted student credit hours and formula funding.