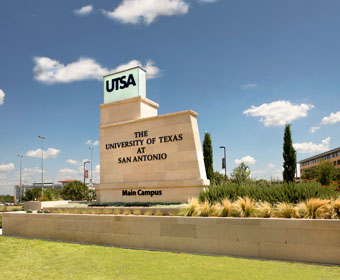 (Oct. 20, 2017) -- Building on the launch of the President's Initiative on Student Success, UTSA President Taylor Eighmy today announced a second initiative to support UTSA's vision as San Antonio's university of the future. The President's Initiative on Strategic Enrollment will help shape what UTSA looks like in 10 years and beyond.
"The Strategic Enrollment Initiative embodies the very essence of UTSA's potential as an urban-serving university that cultivates cradle-to-career learning," said Eighmy, in an email sent to the university community. "Our future as a multicultural discovery enterprise and urban-serving institution requires that we graduate world-ready students with the in-demand skills employers seek as workforce needs evolve."
Eighmy has appointed a 25-member Strategic Enrollment Task Force and charged it with developing data-informed strategies for predicting long-term strategic enrollment growth through data analysis, strategy development, goal development and implementation. The group will determine the optimal mix of undergraduate and graduate students, in-state and out-of-state students, and international students, all within the context of UTSA's role as a doctoral-granting institution.
Additionally, the task force will carefully examine the 60/30TX Higher Education Plan. This initiative by the Texas Higher Education Coordinating Board aims for 60 percent of Texans ages 25-34 to have a certificate or degree by the year 2030. Equally important will be a careful examination of the knowledge economy needs of San Antonio given the region's emerging industries.
Eighmy stressed to the task force the importance of considering online offerings in addition to the capacities of the university's Main and Downtown Campuses. As the committee advances its work, it will create a set of guiding assumptions around total enrollment, weighted student credit hour production and student success. A final report is due from the task force to President Eighmy in January 2018.
"We cannot grow enrollment without growing our infrastructure," said Eighmy. "A critical part of this initiative will be developing a methodology for determining the capital assets, physical spaces, student services and faculty needed to support our enrollment goals."
Lisa Blazer, Senior Associate Vice President of Student Affairs, will chair the task force. A 25-year veteran in enrollment management, Blazer has played a lead role in several of UTSA's strategic planning and student success initiatives. UTSA is currently collaborating with the UT System on a dashboard to better predict enrollment of the university's incoming freshmen and its first-year retention.
To assist the task force with its work, UTSA has hired Ruffalo Noel Levitz, a well-regarded consulting firm with expertise in enrollment data analytics.