(Oct. 24, 2017) -- The Spirit of San Antonio UTSA Roadrunner Marching Band is a UTSA tradition at football games. Now in its seventh season, the band is larger than ever, with more than 300 members.
Student leaders say the group's goal was to get more students involved in the band than ever before. One of the ways the students accomplished that was by reaching out to UTSA's newest Roadrunners during summer orientation sessions.
Jonny Espinoza, a junior, music major and assistant drum major, said he has enjoyed watching the group's growth since he joined three years ago.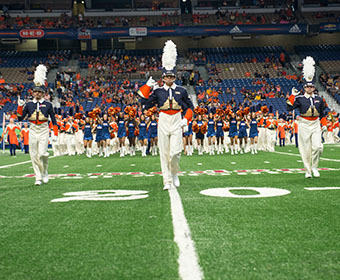 "We reached our goal of 300 people sooner than expected, and every new member is a fantastic addition," said Espinoza. "One of the biggest draws for SOSA is that since we are a non-auditioned ensemble, anyone who wants to join the marching band has the perfect opportunity to do so."
Espinoza credits SOSA's success to UTSA school pride.
"I think the high expectations for our football team have been a good contribution to the ensemble," said Espinoza. "I love the energy SOSA brings to every game and the dynamic we share with each other. The support between the band, the team, the student section and fans is tremendous."
Another way SOSA has been shining this season is with its creative halftime shows. This fall, SOSA paid tribute to the late Tejano superstar, Selena Quintanilla, and even did a salute to Billy Joel.
"We pick songs that get people excited and energized so they show off their UTSA spirit and cheer on our team," said Ron Ellis, director of bands, director of athletic bands. "SOSA members are passionate about music and UTSA, and that really shows."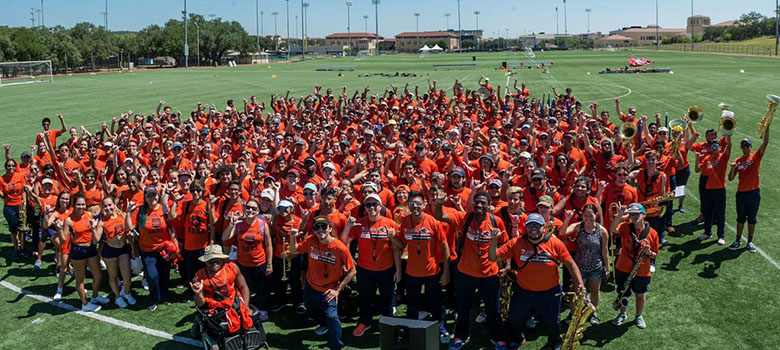 While promoting UTSA traditions, SOSA provides a positive learning environment for UTSA music students.
The nationally recognized UTSA Department of Music provides training and experience for students pursuing a degree in music education, music performance, composition or music marketing.
UTSA is recognized as one of the top five young universities in the nation by Times Higher Education.