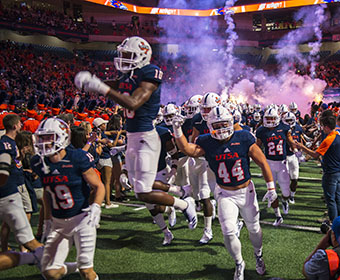 (Oct. 3, 2017) – After a week off, Roadrunners Football is back in action this weekend. The 3-0 'Runners open up Conference USA play against Southern Miss at 6 p.m. Saturday, Oct. 7 at the Alamodome. There are activities going on this week and on game day to get you into the Roadrunner spirit.
Game Week:
The Frank Wilson Show
Wednesdays, 7 p.m., Walk-On's Bistreaux & Bar, 1400 Pantheon Way

Fans are invited to join Coach Wilson and host Andy Everett each Wednesday throughout the season for the one-hour radio show at its new location. All shows will be carried live in the San Antonio area on Ticket 760 AM and also can be heard online at goUTSA.com and Ticket760.com.
Pre-Game:

Blue and Orange Madness 
Before home games, Alamodome Lots B and C

UTSA students, put on your blue and orange and show your support for your Roadrunners. There will be music, games and free food with your student ID, while supplies last. Take the shuttle from Laurel Village two-and-a-half hours before the game to get to the Alamodome parking lots in time for the fun.

Spirit Walk 
Saturday, 3:45 pm., Alamodome Lots B and C

Feel like you're part of the team by experiencing this unique UTSA tradition. Two hours and 15 minutes before each home game, the team bus comes down Cherry St. and pulls up to the parking lots on the east side of the Alamodome. Then join the Spirit of San Antonio band, UTSA Cheer and other fans who line the walkway and cheer on Coach Wilson and the entire Roadrunner team as Rowdy leads them down Roadrunner Alley and into the Alamodome.

Rowdy Town 
Saturday, 3 p.m., H-E-B Plaza and VIA Bridge, north side of the Alamodome

Roadrunner fans of all ages can take part in free pregame festivities including food, games and music. Rowdy Town is open three hours before each home game.

UTSA Alumni Tailgate
Saturday, 3 p.m., Sunset Station

The UTSA Alumni Association and San Antonio Credit Union invite fans to Roadrunner Station, three hours before every home game. There will be food, music, a live watch party and more. Learn more about the tailgating guideline here.

Game Day Parking:

Parking at the Alamodome is limited to fans with a season pass, but there are many other places to park or get to the game.

VIA Service from Main Campus

Students and the general public can hop on a shuttle in front of Laurel Village at the corner of Brenan Ave. and Tobin Ave. The VIA Token Trailer will be set up north of the Laurel Village Office. Free public parking will be offered in the Tobin Ave. Garage at Tobin Ave. and Cook Road. Service begins two-and-a-half hours before each game. Returning service will run for one hour following the end of the game.

Special event tokens may be purchased in advance at the University Center on the Main Campus at the Roadrunner Express Store, using VIA's goMobile app and at all VIA Information Centers. Tokens also will be available at the park and ride locations on game days.

UTSA students may purchase tokens at a student rate of $1.25 each way. Special event tokens for the public from VIA game day pick-up location is $2.50 each way. A current UTSA student ID is required to receive the student rate. VIA daily, monthly and semester bus passes are not valid for special event services.

Other VIA Park and Ride Options

In addition to Main Campus, fans have three other VIA Park and Ride options. Service to the Alamodome begins two-and-a-half hours before kickoff from Crossroads Mall and Madla Transit Center. The last returning bus departs from the Alamodome 45 minutes after the official end of the game.

Downtown Campus Parking

Students can park in any unmarked space on Saturdays at the Downtown Campus in Lots D-3 and D-4 under IH-35 and walk to the game. Bring your comfy shoes. It's about a two mile trek. Students can also catch the VIA Alamodome Express service on Buena Vista St., near Lot D-1. Look for VIA's temporary bus stop signage and VIA personnel.

Going to the Game:

Get your Tickets

UTSA students are eligible for free admission to all UTSA games. Students may also purchase up to four guest tickets at $10 per ticket for seating in the student section. Click here for more information. General public can purchase tickets online here.
The Alamodome has a new clear bag policy. You can find all the details on this policy including a list of the approved bags on the Alamodome website.  The UTSA Bookstore will be selling clear bags at the Alamodome on game days or you can order them online.  
Fans will also experience many of the more than $50 million in recently-completed renovations to the Alamodome, including wider concourses, new concessions areas, a beer garden, outdoor terraces, new lighting, video walls and ribbon board technology and an upgraded sound system.

Game Day Traditions and Social Media

Get into game mode by brushing up on UTSA game traditions. And stay engaged with fellow fans by sharing your UTSA Game Day experiences on social media using #UTSA, #BirdsUp, #AllHandsOnDeck and #DefendTheDome.

Can't make it? Watch or listen live!

Saturday's game will be broadcast live on KMYS-CW 35 in San Antonio. The contest also can be heard live in San Antonio on The Bull 92.5/93.3 FM.  The game also will be streamed live via Stadium on Facebook.
Campus experience

Throughout football season, the monument lights and University Center lights will glow blue and orange during home game weeks. After a win, the lights turn all orange in victory for the rest of the weekend.