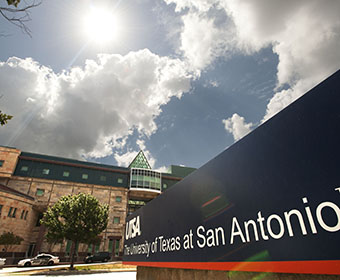 (Nov. 14, 2017) -- Joined by elected, community and business leaders, University of Texas at San Antonio (UTSA) President Taylor Eighmy began to unveil his vision to make UTSA San Antonio's model university of the future. He unveiled the vision during UTSA's Downtown Campus 20th anniversary celebration before a packed house in the Buena Vista Street Building Theater on Monday.
Eighmy challenged the community to reimagine the future of the Downtown Campus as San Antonio's urban-serving university and a global leader in academics.
"To dream big it takes courage, vision, resources and a realignment of the community," Eighmy said. "The purpose of higher education is to lead by hope and lead by example. Others have gone before you, and we can do the same. The future is possible."
         >> Watch the UTSA Downtown Campus 20th Anniversary Celebration.
The UTSA president opened up the 20th anniversary celebration program describing UTSA's role as San Antonio's model urban-serving university and as a contributor to the city's cultural and economic ecosystem. The vision includes a vibrant downtown campus that entwines with the city.
Eighmy plans to broaden the UTSA Downtown Campus' footprint to include more buildings to house undergraduate and graduate students studying subjects such as urban science, innovation and creative economy, and urban arts and technology.
He envisions that UTSA will work with the city to solve some of its grand challenges through an expanded focus on urban science, urban education, urban entrepreneurship, and tech areas such as cybersecurity, cloud computing, sustainability and smart cities.
Eighmy is drawing inspiration for the transformation from other model urban-serving universities, including Arizona State University, Georgia Tech and the University of California, Irvine, that have seen their downtown campuses thrive over the past few years.
Nelson Wolff, Bexar County judge, who was part of the groundbreaking of the Downtown Campus in 1995, also provided opening remarks. Wolff said President Eighmy has the vision to take UTSA to the next level.
"Taylor Eighmy has really taken a great interest in the possibilities of what this campus can become," Wolff said.
San Antonio Mayor Ron Nirenberg echoed his support.
"I'm happy to be here with Dr. Eighmy and to dream big with you," he said.
Presentations at yesterday's event included a discussion on the founding and evolution of the Downtown Campus with Albert Kauffman, professor of law, St. Mary's University School of Law, Leticia Van de Putte, former State Senator, Jude Valdez, UTSA vice president for Community Services and Jesse Zapata, UTSA senior vice provost for Academic and Faculty Support. The panel was moderated by UTSA College of Public Policy Dean Rogelio Saenz.
Former San Antonio Mayor and Former Secretary of Housing and Urban Development Julián Castro continued the discussion, delivering the keynote address on the role of universities and cities, calling Eighmy's vision "a beacon of light for the city."
"UTSA can lead and should lead," Castro said. "UTSA can catalyze a Downtown renaissance."
The program continued with a second panel on reimaging the UTSA Downtown Campus with President Eighmy, San Antonio City Manager Sheryl Sculley, Jenna Saucedo-Herrera, president/CEO, San Antonio Economic Development Foundation and Lorenzo Gomez, chairman and former CEO, Geekdom. Margo DelliCaprini, dean of the UTSA College of Education and Human Development moderated and opened up the discussion by asking Eighmy to elaborate on his vision of urbanomics for the Downtown Campus.
"We are a discovery enterprise. The knowledge we create about the world and about our own community is essential to helping society better itself," Eighmy answered. "We can treat this university like a giant living laboratory, working with the school districts, the city and county. This notion of how we use urban science to understand policy and make smart decisions is where UTSA is headed. All the ingredients are in San Antonio to make it the university of the future."
Additionally, UTSA honored late State Senator Gregory Luna, a champion of higher education who was integral to helping found the UTSA Downotwn Campus. In Spring 2018, UTSA will open the Gregory Luna Student Success Center in the Frio Street Building. Texas State Senator Jose Menendez, Student Regent Jaciel Castro, UTSA alumna Elizabeth Arevalo '01, '03 and Luna's daughter Leticia Luna were on hand for the dedication.