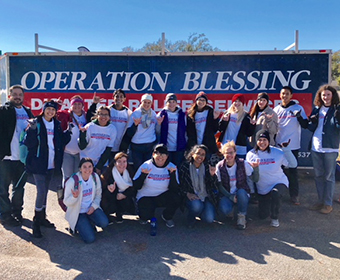 (Dec. 21, 2017) -- Winter break is typically a time for students to catch up on sleep and spend time with family. Several students and staff members from The University of Texas at San Antonio (UTSA) will roll up their sleeves over break to help fellow Texans who are still recovering from Hurricane Harvey.
UTSA Volunteer Services is sponsoring an Alternative Winter Break trip to Beaumont, Jan. 3 to 6, 2018. Eighteen UTSA students are partnering with Community Collaborations International to clean up homes damaged during the storm.
"So many people went to Houston and other areas in Texas right after the hurricane," said Brandi Raschke, program manager for UTSA Student Center for Community Engagement and Inclusion. "Three months later, there is still destruction. There are still people without jobs and living in shelters and hotels because their homes aren't livable yet."
As an Alternative Winter Break team leader, Cameron Nguyen, a San Antonio native majoring in computer science and statistics, chose this volunteer opportunity because it hit so close to home.
"I hope to have a better understanding of what communities go through in the aftermath of disasters like Hurricane Harvey," Nguyen said. "I want to come back to UTSA feeling like I made a positive impact and be inspired to continue helping in my community."
Maria Guerra Garcia, a biomedical engineering and neurobiology senior and first-generation Roadrunner originally from Monterrey, Nuevo Leon, Mexico, has a heart for helping. This will be her fourth alternative break experience, an opportunity she says she couldn't do without support from UTSA.
"This alternative break will allow me to finally be able to donate my time and give my undivided attention to serve those affected," Garcia said. "I hope I can leave Beaumont with a stronger sense of what it is to be homeless and how severely natural disasters affects people. I also hope to motivate and inspire others to serve those that aren't as fortunate as us."
Nguyen echoes the sentiment.
"Volunteering was never my first thought whenever I had a break from school, but it is now," Nguyen said. "These experiences really are a lot of fun and are very rewarding knowing you've made a difference for a community in need."
Garcia says she's also learned a lot out from the experiences.
"The UTSA Alternative Winter Break program exposes you to things you'd never think you'd ever had the opportunity to learn to do," Garcia said. "I've learned how to compost material, pick and plant cotton, efficiently and effectively pull weeds, and even bathe horses."
In addition to building pride and a sense of accomplishment, Raschke said volunteering helps students when they graduate and go out into the job force. To a prospective employer, volunteering shows that UTSA students know how to work as a team. It also demonstrates that they want to go above and beyond by taking on new challenges, helping others and contributing to society.
"It encourages you to build meaningful relationships with others and improve both your leadership and communication skills," Garcia added. "I'd highly recommend the experience to all Roadrunners."
UTSA Volunteer Services also funds the majority of the trips.