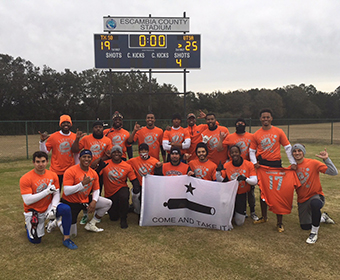 (Jan. 8, 2018) -- Lightz Out, a men's intramural flag football team from The University of Texas at San Antonio (UTSA), has reason to celebrate today. They won the National Intramural Recreational Sports Association (NIRSA) Championship Series National Flag Football Championship over the weekend in Pensacola, Fla.  Lightz Out was one of 25 collegiate teams that traveled from all over the country to compete for the national title.
The team began their journey to the national championship by first winning the NIRSA Championship Series Region IV flag football tournament in Richardson, Texas last October.  That championship earned the team a bid to the national tournament.  After going 1-1 in pool play, Lightz Out defeated Loyola Marymount University (26-7), Columbus State University (26-12) and Rutgers University (33-0), before battling Texas Southern University in the championship game.  After racing out to a 13-0 lead, Lightz Out held on to win the championship 25-19. 
The team's quarterback, Ruben Jimenez, earned Tournament MVP honors.  Andre Garcia and Kendahl Roberts also earned All Tournament honors.  The remaining team members include Devin Allen-Smith, Randy Bermea, Jesse Gamez, Marcus Haraway, Lamar Kimble, Nathaniel Mayberry, Karimu Osman, Jalen Richardson, Ricky Ridley, Denzel Seals and Cameron Wilson. Lightz Out is coached by UTSA alum Jonathan Taylor '17.
Campus Recreation, in support of its vision to be recognized leaders in student development and collegiate recreation, financially supports students each year to represent UTSA at extramural tournaments for flag football and basketball through NIRSA.