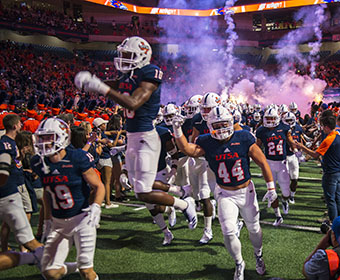 (Jan. 23, 2018) -- Conference USA (C-USA) announced its 2018 football schedule today and UTSA will play eight league games, four at home and four on the road, this fall.

The Roadrunners will open their sixth season of C-USA play when they host UTEP on Saturday, Sept. 29, at the Alamodome. UTSA also will host conference matchups against Louisiana Tech (Oct. 13), FIU (Nov. 10) and North Texas (Nov. 24).

UTSA's road games in league action include visits to Rice (Oct. 6), Southern Miss (Oct. 20), UAB (Nov. 3) and Marshall (Nov. 17).
The Roadrunners will kick off the 2018 slate and third season under head coach Frank Wilson with a non-conference contest at Arizona State on Saturday, Sept. 1, in Tempe, Ariz.

UTSA will host Baylor in the home opener on Sept. 8 at the Alamodome.

The Birds then will travel to Manhattan, Kan., to face Kansas State on Sept. 15. They will conclude non-conference action against Texas State in the H-E-B I-35 Showdown on Sept. 22 at the Alamodome.

The 2017 C-USA alignment will feature seven teams in the East Division and seven teams in the West Division. Charlotte, FIU, Florida Atlantic, Marshall, Middle Tennessee, Old Dominion and WKU comprise the East Division, while Louisiana Tech, North Texas, Rice, Southern Miss, UAB, UTEP and UTSA make up the West Division.

Each school will play every team in its division once for six games, while playing two crossover opponents from the opposite division. Each team will reverse the location of its 2017 opponents, both inter-division opponents and intra-division foes. The conference is in the second year of a rotation between cross-division opponents that will rotate every two years until 2024, when each school has played every opponent in the opposite division once home and away.

The 2018 schedule complies with C-USA scheduling policies as approved by the Board of Directors. In addition, the schedule provides the following:

• All teams finish their conference schedule with two games of one at home and one away.
• Nearly all teams have two home games and two away games in the first half of the conference schedule, as well as the second half of the conference schedule; and
• At least one conference game in all but the opening weekend of the season.

It is important to note that all games are subject to date changes and some dates are expected to move in the coming weeks in order accommodate national television.

A schedule of televised games will be released at a later date. Conference USA's 14th annual Championship Game, pitting the champions of the East and West Divisions, is scheduled for Saturday, Dec. 1.

Season tickets for UTSA's eighth season of football are on sale now by calling 210-458-UTSA (8872) or visiting http://goUTSA.com/tickets.